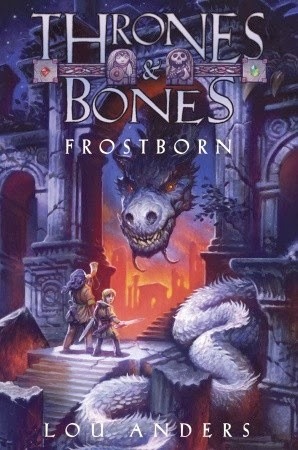 Title: Frostborn
Author: Lou Anders
Genre: Fantasy, Children
Series: Thrones & Bones #1
Hardcover, 352 pages
Publication: August 5, 2014 by Crown BFYR
Source: I received a review copy by the publisher in exchange for a honest review.
Buy|

Amazon

|

B&N

|
Meet Karn. He is destined to take over the family farm in Norrøngard. His only problem? He'd rather be playing the board game Thrones and Bones.

Enter Thianna. Half human, half frost giantess. She's too tall to blend in with other humans but too short to be taken seriously as a giant.

When family intrigues force Karn and Thianna to flee into the wilderness, they have to keep their sense of humor and their wits about them. But survival can be challenging when you're being chased by a 1,500-year-old dragon, Helltoppr the undead warrior and his undead minions, an evil uncle, wyverns, and an assortment of trolls and giants.
I don't read many middle-grade fantasy novels, but of the few that I have read I really enjoyed. And I am happy to say
Frostborn
is included in that short list of highly enjoyable MG fantasy novels. What attracted me to this series were the Norse mythology and the main character's love of Thrones & Bones, a board game…as I am a fan of both, Norse mythology and board games!
To be honest, I only know the bare minimum when it comes to Norse mythology but I always found information about Vikings, the gods and cosmology fascinating. Frostborn follows two main characters; Karn, a young boy who is next in line to inherit his family farm and Thianna, a half human-half frost giant. The book starts out introducing readers to each of the character, their family and their way of life. As the story progress we find both our young heroes lives inevitability entwined as they are chased from their homes by the undead, villains, wyverns and dragon.
Frostborn
is like a mash-up of The Hobbit and the game Dungeons and Dragons rated G. We get all sorts of villains and monsters as well as an action pack adventure that explores the themes of identity, bravery, loyalty, family and friendship. The book started out a bit slow as the author introduces the readers to the world and characters, but it was probably one of my favorite aspects of the book. I loved learning about the Norrøngards and the frost giant. Once the author set up the foundation of the world, the book started moving quickly with nonstop action sequences right till the very end. Another thing I loved was how the author used the Thrones & Bones game/strategy to help Karn and Thianna outsmart all the villains of the book from a fire-breathing dragon to an undead Viking warrior who hasn't been bested for over a thousand year.
Frostborn
is a very well-written and enjoyable read that will appeal to boys and girls alike and people of all ages. Karn and Thianna are two clever and brave youngster and I can't wait to see where their next adventure will take them. I highly recommend this series to kids looking to get into the fantasy-adventure genre.
Frostborn
is a great place to start!
**Don't forget to check out the glossary and instruction for Thrones & Bones at the end of the book! Very cool stuff!