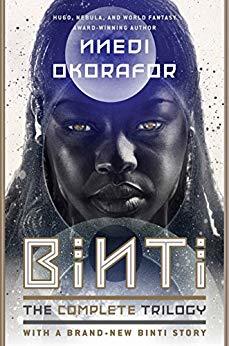 Title: Binti:The Complete Trilogy
Author:
Nnedi Okorafor
Genre:
Science Fiction
Series: Complete
Hardcover, 368 Pages
Publication: February 5, 2019 by DAW
Source: I received a review copy from the publisher in exchange for a honest review.
Buy|

Amazon

|

B&N

|
Collected for the first time in an omnibus edition, the Hugo- and Nebula-award-winning Binti trilogy, the story of one extraordinary girl's journey from her home to distant Oomza University.

In her Hugo- and Nebula-winning novella, Nnedi Okorafor introduced us to Binti, a young Himba girl with the chance of a lifetime: to attend the prestigious Oomza University. Despite her family's concerns, Binti's talent for mathematics and her aptitude with astrolabes make her a prime candidate to undertake this interstellar journey.

But everything changes when the jellyfish-like Medusae attack Binti's spaceship, leaving her the only survivor. Now, Binti must fend for herself, alone on a ship full of the beings who murdered her crew, with five days until she reaches her destination.

There is more to the history of the Medusae--and their war with the Khoush--than first meets the eye. If Binti is to survive this voyage and save the inhabitants of the unsuspecting planet that houses Oomza Uni, it will take all of her knowledge and talents to broker the peace.
Binti has been on my to-read list for as long as I can remember. Therefore, when I saw the bind-up up for review, I immediately jumped at the chance. The omnibus edition contained the complete trilogy and a brand-new novella in one stunning hardcover book. The series follows sixteen-year-old, prodigy Binti as she runs away from home to attend the prestigious Ommza University. The novellas focuses on Binti's life and personal growth at the university, as she deals with PTSD (attack on the way to the university), home, society and cultural issues.
The problem with novellas are their length. It can be difficult to lay the foundation of the world and characters with a restrained word count. With that said it can be done, it's certainly possible but in Binti's case, it fell a bit short. I found the world building perplexing and unconvincing. Besides the scientific terminology and various species, I didn't get the science fiction, futuristic, space vibes. And I've read my fair share of SF novels. I also had a difficult time connect with our main protagonist, Binti and other side characters. The characters weren't relatable at all and the more I read, the more I started to lose interest and not care what happened to them….which is never a good sign. The plot never really captured my attention either. I found myself putting down Binti quite often, not picking it back up for days and when I did, I had trouble remembering what occurred.
I had such high expectations going into Binti, but unfortunately it didn't live up to it. The book never truly capture my attention, and on many occasions I felt like I had to trudge through just to finish. Nonetheless, Binti was well-written and although I may not have enjoyed it, many other reviewers absolutely loved it. I suggest checking out other reviews and excerpt before reading.