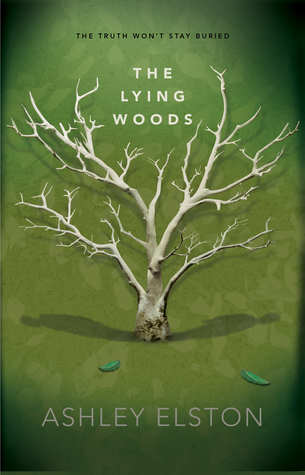 Title: The Lying Woods
Author:
Ashley Elston
Genre:
Contemporary, Mystery
Series: N/A
Hardcover, 336 Pages
Publication:
November 13th 2018 by Disney-Hyperion
Source: I received a review copy from the publisher
in exchange for a honest review.
Buy|Amazon|B&N|
Owen Foster has never wanted for anything. Then his mother shows up at his elite New Orleans boarding school cradling a bombshell: his privileged life has been funded by stolen money. After using the family business, the single largest employer in his small Louisiana town, to embezzle millions and drain the employees' retirement accounts, Owen's father vanished without a trace, leaving Owen and his mother to deal with the fallout.

Owen returns to Lake Cane to finish his senior year, where people he can barely remember despise him for his father's crimes. It's bad enough dealing with muttered insults and glares, but when Owen and his mother receive increasingly frightening threats from someone out for revenge, he knows he must get to the bottom of what really happened at Louisiana Frac--and the cryptic note his father sent him at his boarding school days before disappearing.

Owen's only refuge is the sprawling, isolated pecan orchard he works at after school, owned by a man named Gus who has his own secrets--and in some ways seems to know Owen better than he knows himself. As Owen uncovers a terrible injustice that looms over the same Preacher Woods he's claimed as his own, he must face a shocking truth about his own past--and write a better future.

It is only just beginning.
Elston is a new-to-me author. Elston has a pretty big and dedicated following, so I
'm surprised this is my first time hearing about her. Although, it should be noted that I read mostly Science Fiction and Fantasy than Contemporary. But I am a fan of mysteries, which is how I came to read The Lying Woods. I am a sucker for mysteries, especially ones centered around family, small towns and anything taking place in the south. And it so happens that The Lying Woods consisted of all three.
I didn't really know what to expect when I started The Lying Woods. Perhaps a decent Young Adult at best. Instead I was captivated from beginning to end as Elston expertly weaves a story between the present and the past. The Lying Woods is narrated by two teens; Owen, in present day Louisiana and Noah, Louisiana 1999. The story goes back and forth, building up the history and mystery of all the characters and small town of Lake Cane. At first, I honestly didn't see the correlation between the two narrators. Not until I got 1/3 into the novel and realized it's the story of how Owen's parents met and the significance of The Pecan Farm, its owner Gus and how the summer of 1999 changed the course of everyone' lives.
I've read many Young Adult novels all unitizing the same concepts that make-up The Lying Woods, but none have done it as well as Elston. I also loved that the story took place in the south, it was the perfect backdrop giving readers an intimate and eerie mysterious vibe. Although there is absolutely nothing supernatural going on, in case you're wondering. I really felt connected to each and every character. They all contributed to the story in one way or another, with no role too big or small.
I thought I had the story figured out but when the two dual narration started to converge and revelations came to light; I was shocked at the twist and turn of events. The ending was unexpected. And I loved it! Many times authors would build up the mystery and suspense, only to have an anticlimactic ending where the story fizzled out. The ending in The Lying Woods was a great surprise and a satisfying conclusion to an overall captivating story/mystery. I highly recommend The Lying Woods to everyone, adults and teens alike. I very much enjoyed it; It was a refreshing break from my fair share of Sci-fi Fantasy novels.