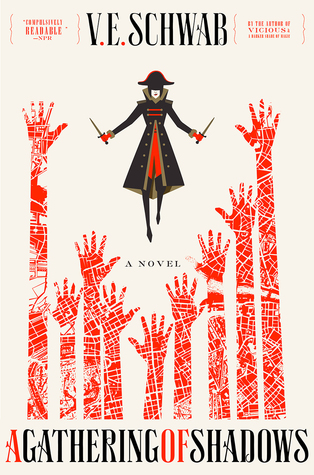 Title: A Gathering of Shadows
Author: V.E. Schwab
Genre: Fantasy
Series: Shades of Magic #2
Hardcover, 512 pages
Publication: February 23, 2016 Tor Books
Source: I received a review copy from the publisher in exchange for a honest review.
Buy|

Amazon

|

B&N

|
Four months have passed since the shadow stone fell into Kell's possession. Four months since his path crossed with Delilah Bard. Four months since Rhy was wounded and the Dane twins fell, and the stone was cast with Holland's dying body through the rift, and into Black London.

In many ways, things have almost returned to normal, though Rhy is more sober, and Kell is now plagued by his guilt. Restless, and having given up smuggling, Kell is visited by dreams of ominous magical events, waking only to think of Lila, who disappeared from the docks like she always meant to do. As Red London finalizes preparations for the Element Games—an extravagant international competition of magic, meant to entertain and keep healthy the ties between neighboring countries—a certain pirate ship draws closer, carrying old friends back into port.

But while Red London is caught up in the pageantry and thrills of the Games, another London is coming back to life, and those who were thought to be forever gone have returned. After all, a shadow that was gone in the night reappears in the morning, and so it seems Black London has risen again—meaning that another London must fall.
A Gathering of Shadows

was everything I hoped it would be and so much more. As a long time fan of Schwab, I'm starting to run out of wonderful things to say about her and her novels; I'm afraid I'm about to sound repetitious in my review but I can't not use 'brilliant, creative, talented, master storyteller, or incredible' when it comes to describing Schwab and her books…because she and her books embodies those words. Schwab once again out does herself (no surprise lol) as she gives readers a captivating and thrilling sequel in the Shades of Magic series.

Oh, how I missed Kell, Lila, Rhy and the world of Shades of Magic! Within the first page, I felt like I never left, like I read the first book just yesterday, as if no time has passed; and yet it's been over a year but everything, from the story to the characters felt fresh in my mind. The first book, A Darker Shade of Magic, I'm sure, has that effect on everyone that reads it. It's memorable and leaves a lasting impression on its readers, where we all find ourselves thinking about the characters and world long after we've read it. I know I did. Before I began A Gathering of Shadows, I kept wondering…how can she possibly out-do the last book, because it was one of my top favorite reads of 2015. And I had very high expectations. Ladies and gents, I give you two words: Essen Tasch (The Elemental Games). The Essen Tasch was the main focus of the book; we had empires across the land make their way to Arnes with their strongest competitors, as magicians were pitted against one another to see who/which empire's magician would come out on top. And boy, was it a marvelous pulse-pounding game! My heart was literally racing and Lila had me grinnin' and laughing out loud. Gotta love the girl! I loved learning more about the magical system and that of the neighboring empires, it's was fascinating, intricate and specific, and like Schwab's characters, everything was very believable and realistic. The entire book, the scenes felt so real that I can imagine myself a part of the crowd as the magicians dueled, as the lights flared so bright from a plate being hit to hearing the energetic deafening cheer of the crowds. It qwas definitely the most fun and best part of the book!

Talking of missing characters, I didn't know how much I missed them till I got 5 pages into the book. It felt sooo good to be immersed in Red London again and right off the bat; readers were treated to Lila's old snarky self and witty dialogue. She's definitely something special, and the more I see of Lila, the more she's becoming my favorite fantasy heroine. Even before she possessed elemental magic, she was already a strong, clever, independent kick-ass and a personality/attitude to match. What I liked most about her is her hunger for life, to make the impossible, possible. When she wants something, she goes out and makes it happen. No questions or hesitation about it. The word ''can't" isn't in her vocabulary. Lila is setting a pretty high standard for other fantasy characters. Watch out literary world, there's a new favorite heroine in town! I can't forget my boys. Readers of course are also treated to more of the princes; the ever-charming Rhy and the revered magician Kell. I love the both of them and was ecstatic to see more of Rhy…because there can never be enough of Rhy lol. The brothers are having a tough time adjusting to life after the black night and consequences of the previous book, but nonetheless, I enjoyed seeing more of their relationship, and how they're moving forward and dealing with their new situation. As much as I love Lila, Kell and Rhy…there's a new character this time around, one that I found myself fascinated with and is starting to grow on me….who is none other than Alucard Emery, magician and captain of the Night Spire. I was intrigued the moment he appeared and there seems to be a lot of history between him and the princes. Readers learned a good chunk about what that all entails but I hope we'll be seeing more of Emery in the next book. He's too interesting of a character not to make another appearance.

But everything wasn't all fun and games, as a threat hovers just at the edges in White London, as a new king ascended the thrones after the death of the Dane Twins. A threat that unforeseeable to the characters and will have monumental consequences that will affects all Londons. That Ending was torturous. It's been awhile since I encountered the dreadful cliffhangers, and Schwab wrote a wallop of a cliffhanger! Talk about devastating and heart-wrenching.

I am already pining for book three; a year seems like a life-time away! I loved every minute of A Gathering of Shadows and highly recommend this series to everyone. This is a series that everyone needs on their book bucket list! I've said this before, but her books are truly one-of-a-kind. Schwab is by far one of the most brilliant and talented authors of our time; every book she writes is magic. From the world she creates, to the characters that inhabit it down to the very words written on the pages. Everything is done with care, purpose and meaning. Like Lila, Schwab is unstoppable, a force to be reckoned with and there's nothing she can't do. Luckily we will have something to tide us over as we await the next Shades of Magic book; Schwab has a new book coming out this July, a YA series, the first book titled This Savage Song. It's full of monsters! I can't wait!