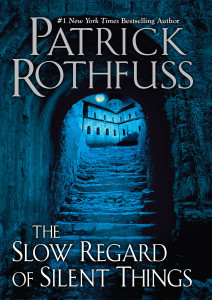 Title: The Slow Regard of Silent Things
Author: Patrick Rothfuss
Genre: Fantasy, Short Story
Series:
The Kingkiller Chronicle #2.5
Hardcover, 159 pages
Publication: October 28, 2015 by DAW Books
Source:
I
received
a review copy from the publisher in exchange for a honest review.
Buy
|
A
mazon
|
B&
N
|
Deep below the University, there is a dark place. Few people know of it: a broken web of ancient passageways and abandoned rooms. A young woman lives there, tucked among the sprawling tunnels of the Underthing, snug in the heart of this forgotten place.

Her name is Auri, and she is full of mysteries

.
First and foremost, I should let you all know I haven't read this series yet. And now you're wondering why would I read this short story, if I haven't right? Well, I've heard a great deal about the Kingkiller Chronicles for awhile now and that there's a show in development…and I thought this short story would be a great introduction to the world and Rothfuss's writing. This book was different. I mean the author even warns new and old readers in the forward that they may or may not want to read or buy this book. So, I can't say that I wasn't fully informed.
The Slow Regards of Silent Things

is an atypical book. I don't think I've ever read a book like this…a full novel or short story. The book is focused on Auri, which I presumed is a well-known and liked character. Readers are treated to a day-in-the-life of Auri over the course of a week. While I am unfamiliar with her character…I do appreciate character centered/driven novels. Auri lives a very isolated life, and while that might seem depressing…she finds pleasure, adventure, and happiness in the simplest of things …a stroll through the underthings, little trinkets she finds, her homemade soap and her blue vaporous friend Foxen (yes, I'm a bit lost on what it is lol). The books is full of lyrical prose and Rothfuss meticulously describes the smallest of details so readers can see what Auri sees and feel what she feels. And another plus was the beautiful illustrations scattered throughout the book…it definitely added to the story.
Overall, The Slow Regards of Silent Things is a solid story. I think I was expecting more of a plot novel, not a character profile novel but I enjoyed it for what it was. After reading Auri's short story, I will be checking out Rothfuss's Kingkiller Chronicles…and hopefully learn more about the world, Auri and the mysterious visitor she was waiting for all week!