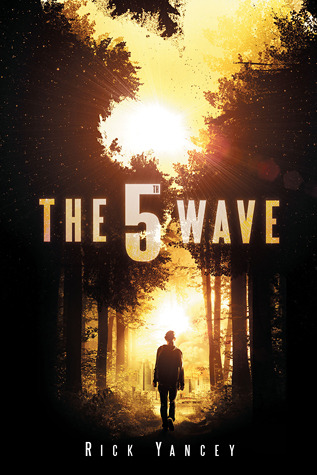 Title: The 5th Wave
Author: Rick Yancey
Genre: Dystopian, Young Adult
Series: The 5th Wave #1
Hardcover, 457 Pages
Publication: May 7, 2013 by G.B. Putman's Sons BFYR
Source: Personal Library
Buy|

Amazon

|

B&N

|
After the 1st wave, only darkness remains. After the 2nd, only the lucky escape. And after the 3rd, only the lucky survive. After the 4th wave, only one rule applies: trust no one.

Now, it's the dawn of the 5th wave, and on a lonely stretch of highway, Cassie runs from Them. The beings who only look human, who roam the countryside killing anyone they see. Who have scattered Earth's last survivors. To stay alone is to stay alive, Cassie believes, until she meets Evan Walker. Beguiling and mysterious, Evan Walker may be Cassie's only hope for rescuing her brother--or even saving herself. But Cassie must choose: between trust and despair, between defiance and surrender, between life and death. To give up or to get up.
I swear wherever you look, whether it's television or movies something is always being adapted from a book. I don't have a problem with it; there are an abundance of books full of creative ideas and amazing stories waiting for you to get lost it. So it's a no-brainer that producers/directors are looking to books for their next blockbuster film. I've heard of

The 5th Wave

for awhile but it never really caught my interest till I saw the trailer. After seeing the trailer, I knew I had to read the book!



The 5th Wave

is a Dystopian following different teens/kids in the aftermath of an alien invasion. I've read a lot of Dystopian but not many involving aliens. So it was a nice change of scenery. It kills me to say this but the book wasn't as good as that trailer. The freakin' trailer! I had mix emotions with this one. There were more cons than pros. I like the whole alien concept but it was hard to differentiate the aliens from the human captors. The aliens weren't believable, didn't have enough background and the explanation was kind of weak. I felt as if the author just placed them into the story and expected readers to accept and believe it.

I also struggled with the writing and characters. The writing felt fragmented and incomplete….and sometimes, it downright made no sense. There were multiple POVs and it usually it works for me. However, the changing POVs between Cassie, Sammy, Ben, and Ethan were really confusing. I didn't know when a character ended and another one began. It all blurred together. As for the characters themselves, they weren't likeable at all. I felt nothing for them. I honestly don't remember much about Sammy, Ben or Ringer. But I thought Cassie was annoying and Ethan a creepy stalker. Not any traits anyone admires. The only thing I enjoyed was the action scenes, which were only a handful if I remember correctly.

Sadly,

The 5th Wave

was a miss for me. I was really hoping to love it but it didn't work for me at all. Ironically, I'm still planning to see the movie because that trailer looks awesome and full of action. I can't believe I'm about to say this but I pray the movie is better than the book.