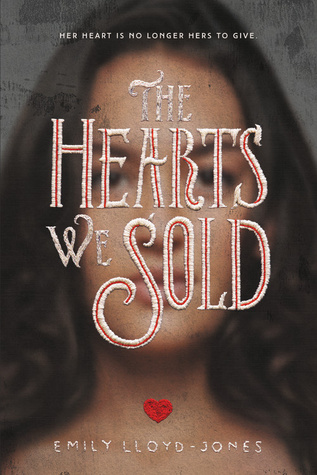 Title: The Hearts we Sold
Author: Emily Lloyd-Jones
Gene: Urban Fantasy
Series: N/A
Hardcover, 400 Pages
Publication: August 8, 2017 by Little Brown BFYR
Source: I received a review copy from the NOVL Newsletter in exchange for a honest review.
Buy|

Amazon

|

B&N

|
When Dee Moreno makes a deal with a demon—her heart in exchange for an escape from a disastrous home life—she finds the trade may have been more than she bargained for. And becoming "heartless" is only the beginning. What lies ahead is a nightmare far bigger, far more monstrous than anything she could have ever imagined.

With reality turned on its head, Dee has only a group of other deal-making teens to keep her grounded, including the charming but secretive James Lancer. And as something grows between them amid an otherworldy ordeal, Dee begins to wonder: Can she give someone her heart when it's no longer hers to give?
I've always found tales of Faustian bargains fascinating. How someone can just throw away their values and beliefs and make a deal with the devil for ambitious reasons; contradicting everything they stand for. It's a conundrum. I haven't read many Faustian books, so when I heard about The Hearts we Sold, I knew I had to read it! I was lucky enough to receive an early copy of it through The Novl newsletter (THANK YOU!) and it was way better than I thought. The Hearts we Sold had a lot of heart and though the plot and the writing was light and straightforward; it also explored deep issues and messages that many readers will appreciate. I know I certainly did.
In The Hearts we Sold, the daemons have made themselves known to the world. They have gain notoriety for making deals with humans; a wish in exchange for a body part. Some daemons deal in eyes, mouths, legs, or arms. But In Dee's case, her daemon required leasing a heart for two years. And in the two years, the recipients are required to do his bidding. Which entail the 'heartless' to close voids (portals to a different dimension).
Dee has a pretty crappy life, her parents are alcoholics and are constantly putting her down and treating her like their personal maid. And Dee's only escape comes in a form of a scholarship to a fancy private school. But when the school decides to cut the scholarship kids and Dee is desperate to stay…she makes a deal with a Daemon for money to pay her school tuition. This choice turns everything up on its head for Dee and giving up her heart and as she goes on missions with the other heartless teenagers; does she truly live.
I really liked Dee and seeing her transformation over the course of the book. It was a drastic change for the better. She took more chances and risks, stood up for herself and made hard choices that pushed her to move forward. All qualities I liked seeing in character development/growth. The romance aspect was very sweet and I liked that it didn't play a central role in the story and instead it supported it. The ending nearly broke my heart. It was bittersweet and unexpected and took me completely by surprise; my kind of endings.
The Hearts we Sold took an idea and themes we're all familiar with and made it it's own and wholly original. At a glance The Hearts we Sold may seem like just another paranormal YA but it was so much more than that…it tackled a lot of important issues and had messages that will stay with me forever. Lloyd-Jones is a writer to watch. I highly recommend The Hearts we Sold. I haven't been this surprised by a book in a long time and
The Hearts we Sold is
definitely one of my favorite reads so far this year! I'm so glad I got a chance to read it, otherwise I may have never picked it up myself.