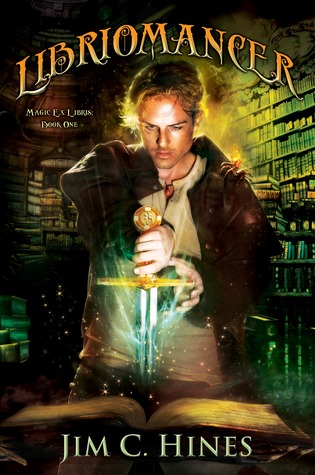 Title: Libriomancer
Author: Jim C. Hines
Genre: Urban Fantasy
Series: Magic Ex Libris #1
Hardcover, 308 pages
Publication: August 7, 2012 by Daw
Source: Purchased for my own reading.
Buy|Amazon|Book Depo|
Isaac Vainio is a Libriomancer, a member of the secret organization founded five centuries ago by Johannes Gutenberg. Libriomancers are gifted with the ability to magically reach into books and draw forth objects. When Isaac is attacked by vampires that leaked from the pages of books into our world, he barely manages to escape. To his horror he discovers that vampires have been attacking other magic-users as well, and Gutenberg has been kidnapped.



With the help of a motorcycle-riding dryad who packs a pair of oak cudgels, Isaac finds himself hunting the unknown dark power that has been manipulating humans and vampires alike. And his search will uncover dangerous secrets about Libriomancy, Gutenberg, and the history of magic. . . .
Libriomancer is a book lovers' and kid's dream. Libriomancy is the ability to reach inside any book and pull out an object (the caveat, it must be small). Imagine pulling the golden snitch from Harry Potter or taking a peek inside Elizabeth Bennet's diary from Jane Austen. Hines crafted such a unique idea that ensures it will be endless fun as readers spot some of their beloved novels in play.
The beginning of the book started off with a bang as Isaac is attacked by a group of vampires at work (a library). It was fun to see familiar titles being used as Isaac constantly pulls item after item from books to defeat the vampires (like a special laser gun from a sci-fi novel). I was so enchanted with the idea but slowly lost interest halfway in. The book magic could only distract me so long from the poor plot and monotonous and unlikeable characters. And man, did I want to love this book.
I still stand by my opinion that the idea is fun and unique but everything else wasn't enough to save the book from going downhill.
Let me start off with the plot. The main plot is both Isaac and Lena on a mission to find and stop whoever is responsible for unleashing automation robots and mind-jacking the vampires. There isn't anything complicated about it nor did I feel like there was sufficient background/world-building involved. I mean, you can only use so much of other authors' books to build the foundation of your world before it becomes repetitive and boring…and honestly that was what happened. Then there were the characters. Isaac is the plainest character I've ever read. There wasn't anything special about him besides him being a libriomancer.
He has zero confidence and seems to always be the damsel in distress. In comes Lena Greenwood, she is the product of someone pulling her from a book (born from a seed). Her main purpose in her fictional book and outside in Issac's world is to adapt to whoever her lover is. The 'lover' shapes Lena into their idea of the perfect woman. In other words she's like a sex slave. But she isn't some dainty helpless lady; she's overly strong, protective borderline possessive, and aggressive. I have no problem with a strong and confident woman, but Lena didn't come across as such. Imagine everything you dislike about jerks (arrogant guys) and there you have Lena. The majority of the book we had Issac having an internal battle with himself, trying to rationalize if Lena counted as a person or if she's just like all the other objects he pulls from books. It was pretty much 'should I sleep with her or be a decent guy and don't?' We all know how it'll end. And in the end, it didn't help any of the characters involved in this lovers' triangle but Lena. I thought it was ridiculous and unrealistic (I know it's a fantasy, but yeah no).
Overall, Libriomancer wasn't what I expected. While it started out fun, it slowly lost steam along the way and never gain back its momentum. I really wished I enjoyed this book more…I mean there are ton of great reviews for it but sadly I'm in the minority. Would I still recommend this book? Definitely not.