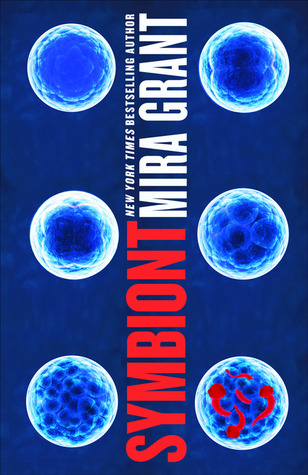 Title: Symbiont
Author: Mira Grant
Genre: Science Fiction, Mystery-Thriller
Series:
Parasitology #2
Hardcover, 518 pages
Publication: November 25, 2014 by Orbit
Source: I received a review copy from the publisher in exchange for a honest review.
Buy|Amazon|Book Depo|
THE ENEMY IS INSIDE US.

The SymboGen designed tapeworms were created to relieve humanity of disease and sickness. But the implants in the majority of the world's population began attacking their hosts turning them into a ravenous horde.

Now those who do not appear to be afflicted are being gathered for quarantine as panic spreads, but Sal and her companions must discover how the tapeworms are taking over their hosts, what their eventual goal is, and how they can be stopped.

In
Parasite
, Grant introduced us to a very realistic world in which SymboGen, a multimillion dollar company bioengineered a tapeworm for every single person worldwide (well, practically everyone). Tired of getting sick, feeling fatigued or nauseous, or having any aches or pains? Well, thanks to SymboGen you can say bye-bye to all that. Having tailored made tapeworms was suppose to change the world, and it did…just not for the better. Readers have seen the calm before the storm in
Parasite
, and now in
Symbiont
we get a bird-eyes view of the storm and all the aftermath when scientists try to play god.
Symbiont
picks up a couple of weeks after the events in Parasite, Sal has solid confirmation on what she unconsciously already knew; that she (tapeworm) fully integrated the moment she woke up from the coma. Most of
Symbiont
read like the usual zombie apocalypse book/movie. People aren't in denial anymore and the government is finally taking the matter seriously as the outbreak has spread far and wide and there no way to contain it. There are four main groups at play: Dr. Cain, Dr. Banks, Sherman and The Governemnt (General Mitchell, USAMRIID). They all have different perspective on the outbreak, and eventually we learned everyone's true motives. However, what is clear from the start is that Sal is extremely important and everyone wants her. Everyone believes that she is a crucial part to their master plan and the key to winning the war.
Symbiont
is set up exactly like the first book, with the book divided in various stages (Part 1,2…). In addition to the usual excerpts from the children's book, magazine, audio/visual transcripts detailing Dr. Cain and Dr. Bank's experiment, readers also get to glimpse short journal entries from most of the characters. I really like the journal entries from the secondary characters. It gives us an in-depth look at what they're doing and thinking even if they don't get much page/scene time thus still creating a fully realized and developed character. The pacing of the book was pretty consistent, there's a lot more happening in terms of action since everyone is trying to kidnap Sal and Sal trying to escape. And then there are the hordes of sleepwalker on every corner. I still find it creepy whenever Sal encounters a sleepwalker group all hissing her name. Many reviewers said that this book suffered 'second book syndrome' and while I liked the book, I can agree on some parts. The book is very lengthy with it clocking out at a little over 500 pages. I agree that there were a lot of unnecessary scenes and the author could have tone down on not describing every little thing. But for the most part I enjoyed it, and didn't care too much as the story and characters kept me engaged.
In the first book I wasn't really a fan of Sal, I said that she read like an adolescent; needing to relearn everything again when she woke up from her coma. However, I'm happy to say she doesn't anymore. Sal grasps the gravity of the situation now and came to the realization that she isn't human and she embraces it. For a tapeworm, Sal has a really big heart. She's more caring and shows more humanness and compassion than the humans around her. There were a couple of unintelligent things that Sal did in the book, many people might get annoyed by it but again I blame it on her caring too much. Example, Sal's dogs are still at the apartment and the area is swarmed by sleepwalkers. Most people wouldn't risk their lives to go get the dogs, but not Sal. She never once contemplated on leaving them.
Overall,
Symbiont
was an enjoyable read. Grant is a master when it comes to characters and world-building, and if you haven't checked out any of her work (also writes under Seanan McGuire), you're sorely missing out!
Symbiont
is a blend of Science Fiction, Horror and Medical-Thriller and I still can't help feeling how realistic the plot is. It may be a post-apocalyptic novel and all but oh so plausible and possible…that it's downright scary. I highly recommend checking out this series, starting with the first book, Parasite. The third and final book,
Chimera
comes out next year; can't wait to see what happens next!