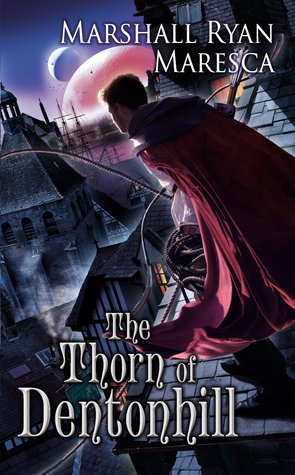 Title: The Thorn of Dentonhill
Author: Marshall Ryan Maresca
Genre: Fantasy
Series: Maradaine # 1
Publication: February 3, 2015 by DAW
Source: I received a review copy from the publisher in exchange for a honest review.
Veranix Calbert leads a double life. By day, he's a struggling magic student at the University of Maradaine. At night, he spoils the drug trade of Willem Fenmere, crime boss of Dentonhill and murderer of Veranix's father. He's determined to shut Fenmere down.

With that goal in mind, Veranix disrupts the delivery of two magical artifacts meant for Fenmere's clients, the mages of the Blue Hand Circle. Using these power-filled objects in his fight, he quickly becomes a real thorn in Fenmere's side.

So much so that soon not only Fenmere, but powerful mages, assassins, and street gangs all want a piece of "The Thorn." And with professors and prefects on the verge of discovering his secrets, Veranix's double life might just fall apart. Unless, of course, Fenmere puts an end to it first.
This book was so much fun! I love the idea of Veranix being a regular college student by day and a vigilante by night. The author did a great job giving Veranix a balance life between the two, which in turn made it easy for readers to follow and understand the world-building. There are a lot of different factions that make up Dentonhill like crime lord Fenmere who is just a regular mafia-guy, the street gangs that run different part of the cities and mages; like Veranix who are able to wield magic. Readers get an inside look on all the different street gangs (the other main players besides Fenmere). Fenmere controls one side of the area, while multiple street gangs control the other side. We also see a bit of the mages, and an influential mage group, The Blue Hand who is smuggling magical artifacts into Maradaine. The magical systems and Mage's energy (Numina) was very interesting, and I can't wait to learn more about it. While we saw some of the Blue Hand's key players, we didn't really learn much about them; so I hope that changes in future books too. Especially with how the book ended!

I love all of the characters. Everyone was well developed with their own distinct personality. While I liked Veranix, I was more smitten with another group of guys…the Rose Street Princes! They may be a gang but they're not intrinsically bad or good; all they care about is protecting one another and the Waterpath people.

The Thorn of Dentonhill was a fast paced read with action from start to finish. I loved every minute of it. The world building is unique; even the street gang's lingo is original! I don't read many fantasy fictions, but this will appeal to audiences of all genres and age as there's a little of everything. It definitely makes me want to read more fantasy novels. This was a great debut novel and I can't wait to see more of Maresca's work and what he has in store for Veranix and the gang.