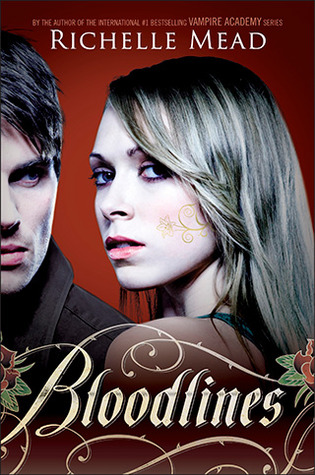 Title: Bloodlines
Author: Richelle Mead
Genre: Young Adult, Urban Fantasy
Series: Bloodlines #1
Hardcover, 421 pages
Publication: August 23, 2011 by Razorbill
Source: Personal library.
Buy|

Amazon

|

B&N

|
Sydney is an alchemist, one of a group of humans who dabble in magic and serve to bridge the worlds of human and vampires. They protect vampire secrets - and human lives. When Sydney is torn from her bed in the middle of the night, at first she thinks she's still being punished for her complicated alliance with dhampir Rose Hathaway.

But what unfolds is far worse. Jill Dragomir - the sister of Moroi Queen Lissa Dragomir - is in mortal danger, and the Moroi must send her into hiding. To avoid a civil war, Sydney is called upon to act as Jill's guardian and protector, posing as her roommate in the last place anyone would think to look for vampire royalty - a human boarding school in Palm Springs, California. But instead of finding safety at Amberwood Prep, Sydney discovers the drama is only just beginning...
I've had Bloodlines on my bookshelf since the first week it was out, I think it's been 3 years, and after all that time I've finally read it! Bloodlines is a spin-off from the Vampire Academy series following Alchemist Sydney Sage as she guards royal Moroi Princess Jill, sister to Queen Lissa Dragomir. Many of the Moroi are trying to disseat Lissa and since she's heavily guarded their only other option is to go after Jill. To keep Jill safe and create a new law to protect Lissa's legitimacy as Queen, Sydney and Jill go undercover as high school students in Palm Springs; because Palm Springs is the last place anyone would expect to see vampires. Or so you'd think.
The Vampire Academy Series is one of my all-time favorite YA series, so I was a little hesitant to start this spin-off series. I thought there is no way this series can live up the VA standards and how interesting can the alchemists be? But I was wrong! I enjoyed this book way more than I expected. Sydney was a great heroine, and while she is no Rose, I found her likable and funny. She is sincere yet oblivious to the world, society as a whole thanks to her strict upbringing. It was refreshing to see her gradually open her mind beyond what she was taught to believe and interact with other people, morois, and dhampirs which was out of her comfort zone. It was really nice to jump back into the VA world and see familiar characters from the VA series like Rose and Dimitri, who both made a brief appearance at the start of the book; and Adrian and Eddie who are permanent characters in the Bloodlines series. Man, I missed Adrian sense of humor! His banter with Sydney had me laughing so much throughout the book. It will be interesting to see how everyone's relationship changes in the future books.
Overall Bloodlines was great! Once I started and re-familiarized myself with the world/characters reading through this book was an effortless breeze. For the majority of the book, the group is at Amberwood prep school but myths of Vampire Hunters, Stroigoi sightings, and power inducing tattoos turns what should be an easy babysitting job dangerous. Who knew the Alchemist world can be so interesting! I'm so glad I finally started this series, and will be reading the next book, The Golden Lily shortly. A must read for all VA fans and YA book lovers.