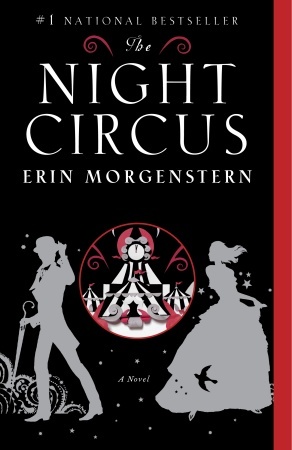 Title: The Night Circus
Author: Erin Morgenstern
Genre: Fantasy
Series: Standalone
Hardcover, 387 pages
Publication: September 13, 2011 by Doubleday
Source: personal library
Buy|

Amazon

|

B&N

|
The circus arrives without warning. No announcements precede it. It is simply there, when yesterday it was not. Within the black-and-white striped canvas tents is an utterly unique experience full of breathtaking amazements. It is called Le Cirque des Rêves, and it is only open at night.

But behind the scenes, a fierce competition is underway: a duel between two young magicians, Celia and Marco, who have been trained since childhood expressly for this purpose by their mercurial instructors. Unbeknownst to them both, this is a game in which only one can be left standing. Despite the high stakes, Celia and Marco soon tumble headfirst into love, setting off a domino effect of dangerous consequences, and leaving the lives of everyone, from the performers to the patrons, hanging in the balance.
I heard nothing but raves about The Night Circus upon its publication in 2011 and still occasionally do till this day. I ended up buying myself a copy just last year but haven't gotten around to reading it till now. I finally see why so many people loved it; it felt like a very sophisticated fantasy with beautifully written prose. The Night Circus is all about magicians, a circus and the performers' lives that get mixed up in the deadly competition…who wouldn't be intrigued?

The Night Circus is centered on Celia and Marco, two talented magicians pitted against each other in a much obscured arena with even vaguer rules and purposes. The book spans years as readers see how Celia and Marco are groomed and taught in two completely different styles of magic by their mentors. Celia's instructor is none other than her father, The Great Prospero who teaches Celia visually, hands on and through vigorous practices. While Marco on the other hand, is plucked from an orphanage by the enigmatic Mr. A H who stresses the importance of studying magic through books. The two become implicitly bound at an early age but don't meet until they come face to face at 'Le Cirque des Reves'.

I enjoyed The Night Circus very much, more than I thought I would. The attendees of The Night Circus had a few words to describe it from: enchanting, magical, enthralling and like a dream…and all these words perfectly described my experience reading Morgenstern's debut. Her writing had that gripping quality that made you get swept up into the story and forget about the real world. There were moments that I literally lost track of time since I was so wrapped up in Celia and Marco and the other wonderful characters that made up the circus like Chandresh, the Burgess twins, Friedrick, and Bailey to name a few. My favorite part of the book was the description of the circus itself. The circus is made up of various sized tents. Each tent housed a special attraction or a performer…there are so many tents that even if an attendee came 3-4 times they still wouldn't have gone to every tent!
My only complaint is the unrealistic romance. I don't want to say too much, but while the characters knew each other for years, I didn't think they spent enough time with each other to actually build a real connection. I never felt the chemistry between the two, and every interaction they had felt forced. Thankfully, the romance was always in the background and was so subtle that it didn't take
away from the overall story (it is said that the circus and the tents were seen as a love letters to one another but again, I didn't really see it as that).
Overall, The Night Circus was a solid and enjoyable read. Like many reviewers stated, The Night Circus is a slow paced book, with the occasional flashbacks and jumps in different narratives… but I still think it's a book that everyone should read at least once in their life. The writing style alone is fresh and unique and the world building and characters are complex and fully developed. This book is a book for all readers. It won't matter if you like/or don't like fantasy or history… If you're a reader, you'll appreciate it. Period. I highly recommend The Night Circus and believe its worth checking out.