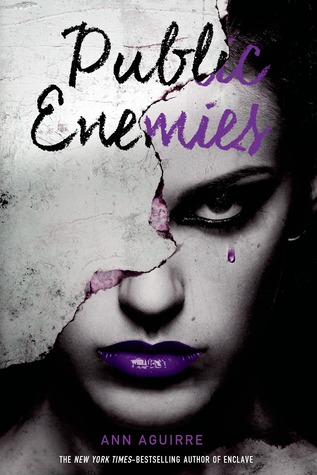 Title: Public Enemies
Author: Ann Aguirre
Genre: Paranormal, Fantasy, YA
Series: Immortal Games #2
Hardcover, 320 pages
Publication: August 4, 2015 by Feiwel & Friends
Source: I received a review copy from the author in exchange for a honest review.
Buy|

Amazo

n

|

B&N

|
Learn the rules of the game…and then play better than anyone else.

Through a Faustian bargain, Edie Kramer has been pulled into the dangerous world of the Immortal Game, where belief makes your nightmares real. Hungry for sport, fears-made-flesh are always raising the stakes. To them, human lives are less than nothing, just pieces on a board.

Because of her boyfriend Kian's sacrifice, she's operating under the mysterious Harbinger's aegis, but his patronage could prove as fatal as the opposition. Raw from deepest loss, she's terrified over the deal Kian made for her. Though her very public enemies keep sending foot soldiers—mercenary monsters committed to her destruction—she's not the one playing under a doom clock. Kian has six months…unless Edie can save him. And this is a game she can't bear to lose.
I read Immortal Danger last year and loved it. Actually, I've read most of Aguirre's work and I haven't been disappointed…till now. Comparing

Public Enemies

to the first book in the trilogy, it definitely did not live up to my expectations. And like the curse of many middle books in a series,

Public Enemies

suffered the sophomore slump.

Many reviewers stated the author didn't do a good job at rehashing the details of the previous book. Which was quite evident in the opening chapters. I couldn't remember what happened in the last book. The only thing I did remembered was that I loved the book, but all the events totally escaped my mind. Which is to say; it obviously didn't make a lasting impression on me like I thought it did. In Immortal Danger, Edie's now boyfriend Kian did everything in his power to save Edie, not only from herself but also the immortal gods. Now the tables have turned and Edie is the one trying to save Kian, who only has a few months to live.

I vaguely remember liking Edie in Immortal Danger and while she's gotten more confident and bad-ass in this sequel…I don't feel the same anymore...I can't put my finger on exactly why, but she just came off as unlikable. Edie's mom just died, her boyfriend only has a few months to live, school is out the window, and life at home with her dad is in shambles…and yet, I found myself not caring about her or her problems. Then there's her relationship with Kian. I still find it creepy how fast they got together and fell in love. Does anyone recall he was stalking her for god knows how long? The relationship is still unrealistic and like Edie…I didn't find myself caring about them as a couple either.

I thought the plot was okay. In my opinion there were just too many things going on. Too many monsters, bad guys…that I didn't know what was happening half the time. The gods and monsters didn't have much distinction or personality and I had trouble remembering who was who. I'd say 99% of the characters were one-dimensional; they lacked complexity and character growth. The only one that was interesting and stood out from all the characters was The Harbinger. Now, that's a character I wouldn't mind reading more about.

It is such a shame that I didn't enjoy

Public Enemies

as much as Immortal Danger or Aguirre's other novels. While the ending was super unexpected, I'm not sure if I will be continuing this series. I honestly wouldn't recommend this book; there are other great books that feature gods/monsters. However, if you're still curious about this series or sequel, I'd suggest borrowing from a library or friend.