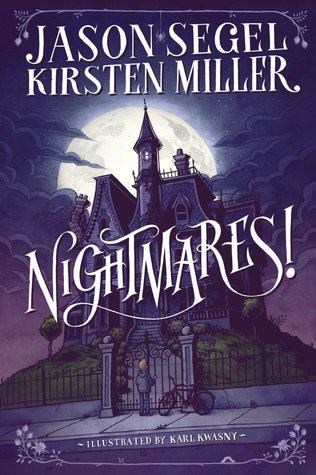 Title: Nightmares!
Author(s): Jason Segel, Kirsten Miller
Genre: Middle Grade, Paranormal
Series: Nightmares! #1
Paperback, 400 pages
Publication: July 28, 2015 by Yearling
Source: I received a review copy from the publisher in exchange for a honest review.
Buy|

Amazon

|

B&N

|
Charlie Laird has several problems.

1. His dad married a woman he is sure moonlights as a witch.

2. He had to move into her purple mansion—the creepiest place in Cypress Creek.

3. He can't remember the last time sleeping wasn't a nightmarish prospect. Like even a nap.

What Charlie doesn't know is that his problems are about to get a whole lot more real. Nightmares can ruin a good night's sleep, but when they start slipping out of your dreams and into the waking world . . . well, that's something only Charlie can face. And he's going to need all the help he can get, or it might just be lights-out for Charlie Laird.

For good.
I remember hearing about

Nightmares!

when it first came out last fall...I mean, it was hard to ignore because it was being co-written by none other than Jason Segel! He's a great, funny actor and I was definitely intrigued to hear that he was writing a paranormal children book. So when I was asked to review the

Nightmares!

series, I totally jumped at the chance. And I'm so glad I did! Segel is not only a talented actor/singer but he can also write! I'm sure having a seasoned author such as Miller; with many books under her belt helped. They made a great writing team; the proof is in the book itself. Segel and Miller penned a fun, hilarious and cute story with a surprisingly deep moral lesson, 'face your fear and don't let it consume your life...because there's no obstacle you can't overcome'.

I thought

Nightmares!

was really well written, the world building straightforward and very easy to understand. It wasn't too simple or overly complex; I thought it was just the right amount of creativity. The whole concept of nightmares being real, in the netherworlds was something I've never seen done before. I loved it! And underneath all the vividly detailed descriptions, beautiful artwork and hilarious dialogue were great lessons for kids. As I mentioned before one of

Nightmares!

biggest moral lesson is to overcome your fears. Everyone is afraid of something, and it's normal, there's nothing to be ashamed of. And the best way to overcome your fears is by talking about it aloud with friends/family…because it won't go away until you face directly head-on. Some other important lessons taught in the book are how to adapt to changes and overcome grief/loss.

I'll admit I didn't like Charlie right off the bat but he eventually grew on me. He was Mr. Grumpy Pants, who was lashing out at his family and friends. But at the same time it's understandable. I get it. It's always rough when you lose someone you love and think that any newcomer that enters your family is a threat. And as the book progresses readers saw how Charlie learnt to deal with those issues. Charlie is surrounded by loving and supportive friends and family, I just adored everyone. His friends are amazing. They always had his back and aren't afraid to call him out when he's acting irrational. Some of my favorite scenes in the book are of Charlie helping his friends' overcome their nightmares….and vice versa. Charlie's stepmom Charlotte and little brother Jack also made quite an impression, even if they only had little page time. I hope we'll get to see more of them in the sequel.

All in all,

Nightmares!

looks to be the start of an amazing series. I think all parents should either read this book to their kids (8 years old and up) or get them a copy ASAP. I highly recommend everyone to check this series out…whether you're young or old. I think we all can use a little reminder now and again on how not to run away when we encounter something we're afraid of/or don't understand and instead should face it straight on.

Nightmares!

hits the marks on all the feelings; it had me laughing, a little bit disturbed with the all the creepy nightmares (Ack, clowns and faceless bunnies!), and a couple of heartfelt moments with Charlotte and Jack. I can't wait to start the next book, The Sleepwalker Tonic!