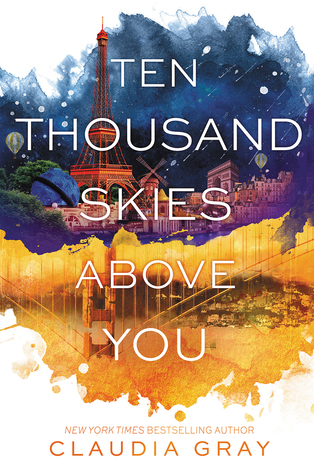 Title: Ten Thousand Skies Above You
Author: Claudia Gray
Genre: Sci-Fi Fantasy/New-Adult
Series: Firebird #2
Hardcover, 432 pages
Publication: November 3, 2015 by HarperTeen
Source: I received a review copy courtesy of HarperTeen/Kaye Publicity in exchange for a honest review.
Buy|Amazon|B&N|
Ever since she used the Firebird, her parents' invention, to cross into alternate dimensions, Marguerite has caught the attention of enemies who will do anything to force her into helping them dominate the multiverse—even hurting the people she loves. She resists until her boyfriend, Paul, is attacked and his consciousness scattered across multiple dimensions.

Marguerite has no choice but to search for each splinter of Paul's soul. The hunt sends her racing through a war-torn San Francisco, the criminal underworld of New York City, and a glittering Paris where another Marguerite hides a shocking secret. Each world brings Marguerite one step closer to rescuing Paul. But with each trial she faces, she begins to question the destiny she thought they shared.
A Thousand Pieces of You was one of my top 10 favorite reads of 2014, so I had extremely high expectations for the sequel. Gray not only met all my expectations but she knocked it out of the park with T

en Thousand Skies Above You

, the second book in the Firebird trilogy. In the first book, Gray introduced readers to the Firebird project from where it was just a conceptual idea to the final implementation of the Firebird, which is a small device (necklace) that facilitates the wearer to jump to multiple parallel world/dimensions. In

Ten Thousand Skies Above you

, readers delve further into the multiple dimensions as we explored three new universes and the characters of Marguerite, Paul and Theo.

What I loved about this series is the incredible world building and the love story. I think authors have a tough time creating one believable world as it is, but Gray tackles not one, not two but three new world/dimensions this time around; from war-ridden San Francisco, Futuristic Money-centric San Francisco to Mobster New York. I thought each world was well thought out and fully developed and had a unique vibe to it to make it distinguishable among the other dimensions we've already visited. I also loved seeing all the different side-personalities of the characters, and while the main essence of a character stayed true, in each dimensions things are slightly tweaked enough to be similar and yet different all at the same time.
As for the romance part, I gotta say, Marguerite and Paul's love story is the best I've ever read…I mean it's literally transcendent and infinite as they find each other over and over across worlds…it's pretty darn romantic. I'm not really the romantic, lovey-dovey type but reading about Paul and Marguerite had me melting into a puddle of goo. Swoon. It was clear right from the beginning that the two were destined, but my only complaint is that I didn't understand why the author still made it feel like a love-triangle with Theo. I know it never happened, but still in book two, there was a small potential for it. Marguerite even entertained the idea briefly when she had doubts about Paul. I didn't think it was necessary and it didn't add anything to the story. All I wanted was more Paul/Marguerite page time and thankfully we got to see more of them, even if it was alternative versions of their selves.

I thoroughly enjoyed

Ten Thousand Skies Above You

and can't wait to read the third and final book in the trilogy! I must say the masterminds behind splintering Paul and poisoning Theo with Nightshade was quite a shocker…definitely the last people I've ever imagined to be part of triad. Then there the crazy cliffhanger! T

en Thousand Skies Above you

is a must read for all sci-fi fantasy fans. If you haven't started this series yet, you're totally missing out on some amazing world building/characters…and one of the most enthralling love story ever told. I highly recommend this series!