Today's series spotlight is on Daniel Jose Older's Bone Street Rumba series, an Urban Fantasy, Ghost-Noir that takes place in New York; full of ghosts, baddies and other things that go bump in the night.
Half-Resurrection Blue

s
was released last January and the sequel,
Midnight Taxi Tango
comes out tomorrow, January 5, 2016. Have you read this series yet? No? Well, today is your lucky day! In anticipation of
Midnight Taxi Tango
's release, a lucky reader will have a chance to discover the world of Bone Street Rumba by winning their own copy of the first book in the series,
Half-Resurrection Blues
; courtesy of Penguin Random House!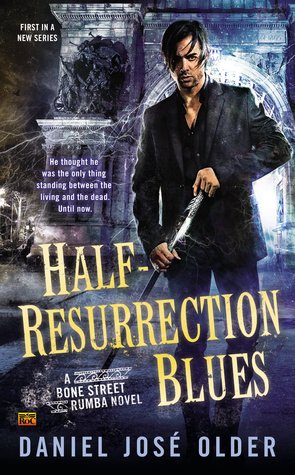 Carlos Delacruz is one of the New York Council of the Dead's most unusual agents—an inbetweener, partially resurrected from a death he barely recalls suffering, after a life that's missing from his memory. He thinks he is one of a kind—until he encounters other entities walking the fine line between life and death.

One inbetweener is a sorcerer. He's summoned a horde of implike ngks capable of eliminating spirits, and they're spreading through the city like a plague. They've already taken out some of NYCOD's finest, leaving Carlos desperate to stop their master before he opens up the entrada to the Underworld—which would destroy the balance between the living and the dead.

But in uncovering this man's identity, Carlos confronts the truth of his own life—and death…
Carlos Delacruz straddles the line between the living and the not-so alive. As an agent for the Council of the Dead, he eliminates New York's ghostlier problems. This time it's a string of gruesome paranormal accidents in Brooklyn's Von King Park that has already taken the lives of several locals—and is bound to take more.
The incidents in the park have put Kia on edge. When she first met Carlos, he was the weird guy who came to Baba Eddie's botánica, where she worked. But the closer they've gotten, the more she's seeing the world from Carlos's point of view. In fact, she's starting to see ghosts. And the situation is far more sinister than that—because whatever is bringing out the dead, it's only just getting started.
GIVEAWAY
Thanks to the wonderful people at Penguin Random House, I have the first book, HALF-RESURRECTION BLUES up for grabs.
a Rafflecopter giveaway