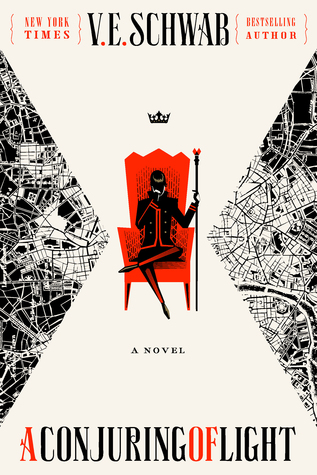 Title: A Conjuring of Light
Author: V.E Schwab
Genre: Fantasy
Series: Shades of Magic # 3
Hardcover, 624 Pages
Publication: February 21, 2017 by Tor Books
Source: I received a review copy from the publisher in exchange for a honest review.
Buy|

Amazon

|

B&N

|
THE BALANCE OF POWER HAS FINALLY TIPPED...
The precarious equilibrium among four Londons has reached its breaking point. Once brimming with the red vivacity of magic, darkness casts a shadow over the Maresh Empire, leaving a space for another London to rise.



WHO WILL CRUMBLE?


Kell - once assumed to be the last surviving

Antari

- begins to waver under the pressure of competing loyalties. And in the wake of tragedy, can Arnes survive?



WHO WILL RISE?
Lila Bard, once a commonplace - but never common - thief, has survived and flourished through a series of magical trials. But now she must learn to control the magic, before it bleeds her dry. Meanwhile, the disgraced Captain Alucard Emery of the Night Spire collects his crew, attempting a race against time to acquire the impossible.

WHO WILL TAKE CONTROL?


And an ancient enemy returns to claim a crown while a fallen hero tries to save a world in decay.
I've been taking my time finishing

A Conjuring of Light

. I wanted to savory every page, every word because it's the final book in the trilogy and of course, I didn't want it to end. I wasn't ready for it to end. Schwab has written one of the most captivating and imaginative series I've ever read, it's no wonder that I and everyone else has fallen in love with this series, with the world and the characters. In

A Conjuring of Light

, Kell, Lila and all of the three Londons and its people face a new, terrifying threat that leaves nothing but death and chaos in its wake. In order to save his Kingdom, Kell and the gang sailed across the ocean to the infamous floating black market in search of the inheritor, a device believe to be myth and their only hopes to defeat Osaron.

I had no idea what to expect when I began

A Conjuring of Light

. The last book was amazing as it was heartbreaking, it was my favorite of the series. I think like everyone else, I had extremely high expectations, that whatever Schwab had in store had to be better and crazier. Right? Not so much. I thought the book was great don't get me wrong. But I didn't love it like I thought I would, or wanted to. Let's start with what I liked. I liked learning about Holland's past and what happened in his past that shaped the man we came to see, hate and surprisingly to where we eventually understood and grew to like. Never had I thought that Holland would be likable! I found the scenes with the three Antaris and Alucard the most fun and mesmerizing, they definitely had chemistry and their banter had me smiling and laughing. The fighting sequences towards the end was incredible. I could see it playing like a movie in my mind! Everything was just fluid and flawlessly executed.

The majority of the book as I said was great, however there were some parts that I found confusing, dull and unnecessary…just page fillers. The first thing is King Maresh's sacrifice. The King and his people knew that Osaron was unstoppable, that both Kell and Holland alone could not fight him and they were the strongest in their respective kingdom. I understood that the King wanted to protect his people, but why couldn't he just wait a bit till Kell came back with the inheritor? Instead Maxim went out with his steel soldiers and died within five minutes! And it didn't change or help anything. Secondly, Rhys who is linked to Kell decides to confront Osaron after his father's death. Yes, grieving makes a person reckless and do asinine things but Rhys was a King now, he couldn't really afford to pull those stunts and yet he did. So he just made the whole situation worst for himself and Kell. These two scenes were unnecessary in my opinion, and didn't bring anything to the plot/story. And finally we have the Veskan Prince and Princess's betrayal. They wanted war and to take Arnes for themselves. They tried and failed, but again I thought that story thread was unnecessary and brought nothing to the story. It changed nothing of the situation. It was resolved as quickly as it began. Although these scenes brought nothing to the story, it also didn't take anything away nor did it make me like the book any less.



A Conjuring of Light

was an enjoyable and for the most part a satisfying read. The second book will always be my favorite and the series as a whole excellent. I highly recommend it without reservation. Schwab is a talented writer and her books pushes the boundaries of literature and is the perfect antidote for real life escapism. The Shades of Magic Series is pure magic, so do yourself a favor and get lost in a book! I look forward to seeing what Schwab conjures up next!