Hi! Welcome to my stop on the I BECOME SHADOW Blog Tour!
Title:
I Become Shadow
Author:
Joe Shine
Genre:
Young Adult/ New Adult, Thriller, Dystopian
Series:
N/A
Hardcover, 304 pages
Publication:
June 10, 2014 by Soho Teen
Source:
I received a review copy from the publicist in exchange for a honest review/blog tour.
Buy
|
Amazon
|
Book Depo
|
Ren Sharpe was abducted at fourteen and chosen by the mysterious F.A.T.E. Center to become a Shadow: the fearless and unstoppable guardian of a future leader. Everything she held dear—her family, her home, her former life—is gone forever.

Ren survives four years of training, torture, and misery, in large part thanks to Junie, a fellow F.A.T.E. abductee who started out as lost and confused as she did. She wouldn't admit it was possible to find love in a prison beyond imagining, but what she feels for Junie may just be the closest thing to it.

At eighteen they part ways when Ren receives her assignment: find and protect college science student Gareth Young, or die trying. Life following a college nerd is uneventful, until an attack on Gareth forces Ren to track down the only person she can trust. When she and Junie discover that the F.A.T.E. itself might be behind the attacks, even certain knowledge of the future may not be enough to save their kidnappers from the killing machines they created.
When I got the email asking if I wanted to be part of the I BECOME SHADOW Blog Tour, I totally jumped at the chance. I thought the synopsis sounded interesting, I mean who doesn't love books with secret agencies? I honestly expected this book to be good, enjoyable at most but I wasn't expecting to be blown away. I BECOME SHADOW is hands down the best YA/NA book I've read all year…actually in a very long-long time.
I BECOME SHADOW is narrated in first person by our protagonist Ren Sharpe. Ren was abducted from her home at the age of fourteen to be part of the F.A.T.E organization. The F.A.T.E organization has this technology that can somehow predict the future, enabling them to know who is dead or alive, or important a few years from now. It is the same technology that predicted Ren Sharpe would die at the age of fourteen, and so the F.A.T.E intervened and 'saved' her…and while she isn't dead-dead…all her friends and family believed she died (they had a dummy body ready to be discovered and confirmed as Ren, so that an investigation wouldn't ensue). Ren and three hundred other abductees begin their training to become a Shadow the moment they wake-up from their kidnapping. A Shadow is someone who is trained to protect an important future leader. Each shadow is linked to one future leader, to ensure that nothing happens to them, that they must protect their FIP (Future Important Person) at all cost. Failure is not an option.
The writing style/narration is unlike I've ever read, literally.
Shine's style is a combination of first person point-of-view and diary format. I really enjoyed it more than I thought, and I didn't have a hard time getting into the story because I love and connected with Ren immediately. It was as if Ren was sitting across from me telling me her story. It's like talking to one of your pals, sharing a story over a cup of coffee. The first third of the book was taken place in the past as Ren takes readers through her abduction, and then training and life overall at F.A.T.E.. This part, to be honest, felt like every single dystopian I've read previously. I couldn't help but compare it to the other­­­s because of how similar it was (just the training aspect). But this isn't to say it was boring, because this book is far from boring. The remaining two-thirds of the story are where everything gets more interesting and where the originality comes in. Two-thirds of the way the book fast-forward to the present and Ren is eighteen-years-old and a full-fledge Shadow. The book is nonstop action and suspense from start to end with enough humor and romance to balance everything out. The world building was well done, and the information perfectly incorporated into the story. There was never a moment that I felt overwhelm with information. The information was perfectly woven into the plot, and small snippets were gradually revealed as the book progressed and as we got to know the characters.
I love Ren. While reading the book, I glance back at the back-cover and thought 'wow, Shine captured the voice of a 14/18 girl so well!' LOL. It was definitely believable that this book was being narrated by a 14/18 year-old. Ren is my type of heroine, there are just so many things I loved about her; she's witty, snarky, funny, sweet, strong, independent, realistic, relatable and can totally kick ass. You'd think that someone trained to be a killing machine would be robotic and awkward but that wasn't the case with Ren's character. She somehow managed to keep true to herself regardless of the torture she endured physically and mentally at the F.A.T.E organization; instead it just enhanced her character and made her stronger.
I loved Ren's interaction with everyone around her, it just felt real. Everything Ren, Junie, Gareth felt, I felt. Their emotion just leaps off the page. My favorite scenes are of Ren, Gareth, and Lloyd. It was cute watching Ren fight her training/rules and as these two characters slowly broke down her hard exterior because beneath that shell is just a normal 18-year-old (well as normal as it gets for Ren).
Bottom line, I BECOME SHADOW is a stellar debut by Shine. I still can't believe that this is his first book, because if I didn't already that …I would have thought he was a seasoned author with many books under his belt. I loved every moment of this book, the plot and the amazing characters that readers will fall in love with. I highly, highly recommend this book to anyone looking for something fresh, fun and exciting. I'm not sure if there is a sequel in the works, but with that ending…I'm PRAYING that there will be one. Pretty please? This is a debut you do not want to miss. Watch out Katniss, Tris…there's new kick-ass heroine in town!
ABOUT THE AUTHOR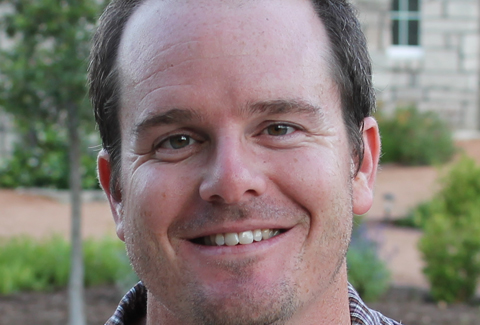 Joe Shine grew up in Austin, TX (the greatest city ever), and is a graduate of Texas A&M University. He has an MFA from the Peter Stark Producing Program at the University of Southern California, and after brief stints in Los Angeles and Washington, DC, Joe returned home to Austin (repeat: the greatest city ever). Joe has a normal human job like most everyone else but hopes to become a full-time writer one day, and this is where you, the reader, must do him a really big solid and love I Become Shadow, his first novel.
Want to learn more about I BECOME SHADOW OR JOE? Connect with the author below!