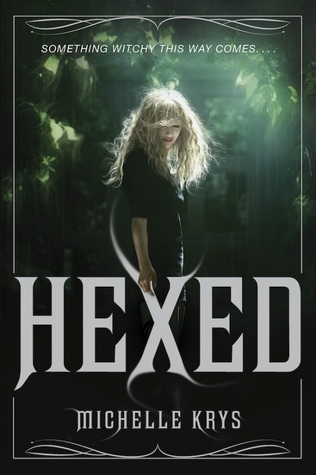 Title: Hexed
Author: Michelle Krys
Genre: YA Paranormal
Series: The Witch Hunter #1
Publication: June 10th 2014 by Delacorte Press

Source: I received an arc from the author/publisher in exchange for a honest review.
If high school is all about social status, Indigo Blackwood has it made. Sure, her quirky mom owns an occult shop, and a nerd just won't stop trying to be her friend, but Indie is a popular cheerleader with a football-star boyfriend and a social circle powerful enough to ruin everyone at school. Who wouldn't want to be her?

Then a guy dies right before her eyes. And the dusty old family Bible her mom is freakishly possessive of is stolen. But it's when a frustratingly sexy stranger named Bishop enters Indie's world that she learns her destiny involves a lot more than pom-poms and parties. If she doesn't get the Bible back, every witch on the planet will die. And that's seriously bad news for Indie, because according to Bishop, she's a witch too.



Suddenly forced into a centuries-old war between witches and sorcerers, Indie's about to uncover the many dark truths about her life—and a future unlike any she ever imagined on top of the cheer pyramid.
I was immediately intrigued when I first saw the cover for
Hexed
, it promised something dark, wonderful and witchy fun but I didn't get that at all. Let me begin with what I liked. I liked that this book involved witches and sorcerers and that it takes place in high school. That's about it.
From the first page I had a problem with our main heroine Indie Blackwood. She is your typical self-center popular girl in high school. She's at the top of the food chain, dating the hottest guy in school…and if you're not at her level she won't even bat an eye at you. Indie doesn't care about anyone but herself. She expects everyone to do things the way she wants, and everyone basically fall in line after her. I had hoped that her personality would improve by the half way mark but nope…she was still an immature, annoying, stuck-up chick except now one with magical powers. I also didn't like that the only real person around Indie was her neighbor Paige, who Indie would shun because befriending Paige means social suicide for her. Yet she expects Paige to drop everything she does, when Indie calls. For example, Paige is at a sleepover, and what does Indie do? Indie drives to Paige's friend's house and guilt-trips her into leaving the sleepover because she didn't want to do things alone. Indie is definitely not a person I'd want to be friends with nor did I like reading her narrative. I don't like whiny selfish characters, and if I knew there was an annoying character behind that beautiful forest green cover…I'd probably not read this book.
The book never explained what really happen between witches and sorcerers, but what readers do know is there is a long history of hatred/jealousy among the two groups; with the sorcerers trying to do everything possible to obtain the witches most valuable possession, The Witch Hunter's bible. There were plenty of action from the start, but I was expecting a grand battle from these powerful beings…but everyone wasn't as scary or powerful as I thought. And the grand battle I was expecting was anticlimactic, talk about a snooze-fest.
Most of the baddies were a joke and the witches didn't even make an appearance (beside Bishop and Jezebel).
Indie was a pretty cruddy heroine, but the secondary characters weren't any better. They were bland characters, with not enough personality to make them memorable.
Hexed was an okay book, there were some good funny scenes here and there but overall it didn't live up to my expectations. I really wished I loved this book, but I didn't. The world-building was lackluster or nonexistent. The explanation on how a witch comes into his/her power can be summed up into 3 sentences. Indie is probably the worst heroine I've read in awhile, the secondary characters were nothing but background props, and the plot just absurd. Regardless of my opinion, there seems to still be a lot of readers that loved this book…so while it might not be for me, it might be for you. I suggest reading an excerpt/sample before buying/reading.