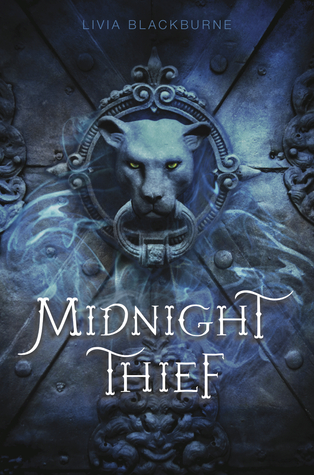 Title: Midnight Thief
Author: Livia Blackburne
Genre: Young Adult, Fantasy
Series: Midnight Thief #1
Hardcover

,

368 pages
Publication: July 8, 2014 by Disney-Hyperion

Source: I received a review copy from the publicist in exchange for a honest review.
Growing up on Forge's streets has taught Kyra how to stretch a coin. And when that's not enough, her uncanny ability to scale walls and bypass guards helps her take what she needs.



But when the leader of the Assassins Guild offers Kyra a lucrative job, she hesitates. She knows how to get by on her own, and she's not sure she wants to play by his rules. But he's persistent—and darkly attractive—and Kyra can't quite resist his pull.



Tristam of Brancel is a young Palace knight on a mission. After his best friend is brutally murdered by Demon Riders, a clan of vicious warriors who ride bloodthirsty wildcats, Tristam vows to take them down. But as his investigation deepens, he finds his efforts thwarted by a talented thief, one who sneaks past Palace defenses with uncanny ease.

When a fateful raid throws Kyra and Tristam together, the two enemies realize that their best chance at survival—and vengeance—might be to join forces. And as their loyalties are tested to the breaking point, they learn a startling secret about Kyra's past that threatens to reshape both their lives.
First off, look at that cover.
How gorgeous is that cover right?! I immediately fell in love with it when I first saw it…its simple yet eye-catching. And the synopsis was just as intriguing and promised a heck of an adventure.
Midnight Thief
is the first book in a planned series about a 16-year-old street smart girl who robs the rich to support her adopted family and herself. The book is centered on three characters; Kyra the stealthy thief, Tristam a promising knight of Forge and James the calculating and ruthless leader of a band of assassin. Kyra is a pro at what she does. She's able to climb and navigate at heights no regular person would dare to attempt and it makes her a worthy ally in James's eyes, leader of the Assassin Guild.
James makes Kyra an offer she can't refuse, where she wouldn't have to take dead-end jobs for a couple of coins as she not only supports herself but two other street kids. Then we have Tristam, a knight on a mission of his own to find the woman who killed his partner. The three lives' gets intertwine when a group of demon cats raid Forge, and the line between foes and friends blur…people aren't who they appear to be and Kyra is in for a rude awakening.
The book is narrated in third person point-of-view alternating between Kyra and Tristam. I really like Kyra, she's intelligent, strong but isn't afraid to show a vulnerable side, and overall a survivor (lived on the streets since she was 8/9 years-old). Kyra is down to earth/real, never pretending to be anything but herself…and I love that about her. For example, James gave Kyra an assassination mission that will make or break her position in the Guild. Kyra wasn't happy with the assignment and in the end refused to go through with it because she felt like the Guild was turning her into someone who she doesn't want to be and she didn't want to lose sight of who she is…even if it means endangering people she loves.
Tristam and James are also great supporting male characters who both play an important role in the story and the reason behind some of the actions and choices Kyra makes. As you can already figure out from the synopsis/ and my second paragraph; Tristam helps Kyra make the right choices while James pushes Kyra into making bad choices.
I was captivated from the first sentence. Midnight Thief was exactly what was promised in the synopsis and so much more. I love the characters and the overall plot as it kept me on the edge of my seat and flipping the pages till the very end. The pacing was pretty constant throughout, there was never a dull moment or any scenes that I felt were unnecessary or filler. The book was beautifully well written and loaded with twist and turns that I never saw coming. The big reveal midway through was just that…a shocker, I definitely didn't see that coming a mile away! But it was a good shocker which added another layer to the world-building.
Midnight Thief was a great introduction to Mrs. Blackburne's work and what I'm sure will be the next big fantasy series. I truly enjoyed this book and am looking forward to more of Blackburne's work. I can't wait for the sequel! I highly recommend this to all Young Adult, Fantasy fans…and maybe even the paranormal lovers…this book had a little bit of everything; mystery, action, a little romance, suspense, magic and political intrigue.