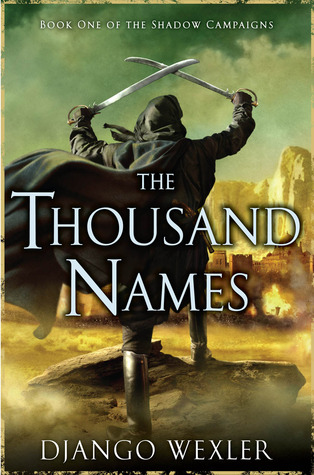 Title: The Thousand Names
Author: Django Wexler
Genre: Military Fantasy
Series: The Shadow Campaigns #1
Hardcover, 528 pages
Publication: July 2, 2013 by Roc
Source: I received a review copy from the publicist in exchange for a honest review.
Buy|

Amazo

n

|

Book

Depo

|
Captain Marcus d'Ivoire, commander of one of the Vordanai empire's colonial garrisons, was resigned to serving out his days in a sleepy, remote outpost. But that was before a rebellion upended his life. And once the powder smoke settled, he was left in charge of a demoralized force clinging tenuously to a small fortress at the edge of the desert.

To flee from her past, Winter Ihernglass masqueraded as a man and enlisted as a ranker in the Vordanai Colonials, hoping only to avoid notice. But when chance sees her promoted to command, she must win the hearts of her men and lead them into battle against impossible odds.

The fates of both these soldiers and all the men they lead depend on the newly arrived Colonel Janus bet Vhalnich, who has been sent by the ailing king to restore order. His military genius seems to know no bounds, and under his command, Marcus and Winter can feel the tide turning. But their allegiance will be tested as they begin to suspect that the enigmatic Janus's ambitions extend beyond the battlefield and into the realm of the supernatural—a realm with the power to ignite a meteoric rise, reshape the known world, and change the lives of everyone in its path.
The Thousand Names by Django Wexler is the first in a military-fantasy series. This was my first introduction to military fantasy as well as to Wexler's work (as I know he also has a middle grade fantasy series, which I plan on checking out). To be honest, I'm more of a fantasy gal and The Thousand Names was more military than fantasy. The fantasy aspect didn't truly take root till the last third of the book. However, I found myself enamored by the amazing world and characters Wexler has created and was surprised at how much I enjoyed the novel regardless of the subtle fantasy elements.
The Thousand Names
takes place during the Napoleonic period, full of military protocols and lingos and spectacular detailed battle scenes. Wexler did an amazing job of creating a believable setting in which the Vordanai Colonials make a trek across the Khandarai desert to fight religious zealous rebels. I love the battles scenes, especially when we see the Vordanais out-smart the rebels since the odds weren't
in their favor with the rebels outnumbering the Colonials 10 to 1. The military aspects of the novel was pretty straight forward but there is still a lot to see of the magic system as it makes a steady appearance here and there and a big part in the final battle of the book. The book makes up mostly of regular soldiers, but there are a few gifted with naath, a special ability. Readers' gets a preview in the prologue of a sorcerer working his magic but it isn't till the final battle that we see what some people with naath are really cable of…and believe me it is awesome.
Beside all the military goodness, the best part of the book is definitely the characters. The book is told in dual POV between Captain Marcus d'Ivoire and Ranker Winter Ihernglass with the occasional POV of (a few times) Colonel Janus bet Vhalnich. Marcus is one who always follows the rules and sees things plainly as black or white. I really like his character, an all around good/decent man who just wants to do right by his battalion. Although his beliefs gets upturn with the arrival of his new Colonel Janus, who is a peculiar man, who does things as he sees fit…but is still fair. I enjoyed both of the main narritative but I found myself looking forward to reading more of Winter's. Winter is also another good soldier­­ who is a quick thinker, light on her (She, yes a SHE disguised as a man to be enlisted) feet and is always the first person to save the day when a crisis ensues. Winter is full of surprises and I love watching her character grow (not only in terms of job title) over the course of the book. There are many other great male and female characters that were all equally intriguing. This is by far the best group of complex, realistic characters I've read in a long time, and I loved reading about each and every one of them. Wexler spent a great deal creating every individual character and it shows. Every character is unique and fully realize, down to the secondary and tertiary characters.
The Thousand Names was an excellent start to what I'm sure will be a great series. I highly recommend this book to those who love characters driven novel, fully realized world and stunning battles/actions. I can't wait to read the next book. Give this book a chance, it might surprise you and open a door to another subgenre you'd never thought of trying…I know it did that for me. I definitely will be checking out more of the Flintlock fantasy genre.