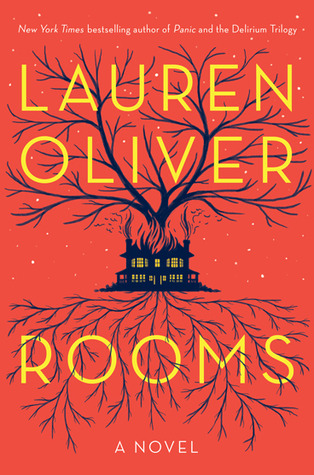 Title: Rooms
Author: Lauren Oliver
Genre: Paranormal Fiction
Series: N/A
Hardcover, 320 pages
Publication: September 23, 2014 by Ecco
Source: I received a review copy from the publisher in exchange for a honest review.
Buy|

Amazon

|

Book Depo

|
Wealthy Richard Walker has just died, leaving behind his country house full of rooms packed with the detritus of a lifetime. His estranged family—bitter ex-wife Caroline, troubled teenage son Trenton, and unforgiving daughter Minna—have arrived for their inheritance.

But the Walkers are not alone. Prim Alice and the cynical Sandra, long dead former residents bound to the house, linger within its claustrophobic walls. Jostling for space, memory, and supremacy, they observe the family, trading barbs and reminiscences about their past lives. Though their voices cannot be heard, Alice and Sandra speak through the house itself—in the hiss of the radiator, a creak in the stairs, the dimming of a light bulb.

The living and dead are each haunted by painful truths that will soon surface with explosive force. When a new ghost appears, and Trenton begins to communicate with her, the spirit and human worlds collide—with cataclysmic results.
Rooms is the most unusual yet fascinating ghost story I've ever read. I have never read any of Ms. Oliver's books, but I can see why she's a bestseller; her writing is impeccable drawing me into the story right from the first page.

Rooms is a story about the Walker family returning to their father's estate after his death to go over his belongings, the will, and his funeral and the two ghosts that still resides within the walls. Sandra and Alice are previous occupants of the house, but now in death they are trapped within the house bickering amongst themselves. The book explores the family's past, their ups and down and how they're coping with the lost of their father.

Rooms may be a ghost story but not in the sense of what most people refer to as 'ghost stories'. It's not scary, gruesome, nor spine-chilling. It's a story about the living and the dead but mostly the living, exploring the lives of the Walker family. Rooms is narrated by six characters; The Walkers: Caroline (Mother, Ex-Wife), Minna (Daughter, Single mother), Trenton (Son) and Amy (Minna's six-year-old daughter) and two ghosts: Alice and Sandra. The book alternates between all six characters, narrated in third-person with the Walkers and first-person with the ghosts.

I'm not usually a big fan of multiple narrations. Usually with this many narratives, authors sometimes lose some of the characters' individuality/ uniqueness in trying to balance everything out. However, Oliver made it work and exceeded this challenge. She created a distinct voice for each of her characters. All of the characters were very realistic, beyond flawed but it was what made them and the story that much more riveting. It was very easy to follow each of the character's story/narrative, even the two ghosts who at first seemed similar but as I got into the story it was easier to see that Sandra is more cynical and vulgar while Alice is laid back and conservative.

Rooms is a pretty dark and bleak book. The characters are all troubled, guilt-ridden and full of despair. And while these types of characters can usually be off-putting, Oliver writes tragic characters well…making readers want to get to know the characters and their history/past. I loved the ending, it was very bitter-sweet and Oliver wrapped up all the loose ends perfectly.

There are many negative reviews of this book. Many of them from readers following the author from her YA series to her new adult book…and while I haven't read her YA series/book this is definitely not YA. Rooms deals with a lot of adult issues and has a lot of adult content that isn't suitable for anyone under seventeen. With that being said, I really enjoyed Rooms and highly recommend it. Don't let all the negative reviews dissuade you from reading this one; there is a lot to like. I'm really glad I read this book. Rooms is a beautifully written novel with unique and distinct characters and an engaging plot that will be with me long after I read it. Read it, you won't be disappointed!