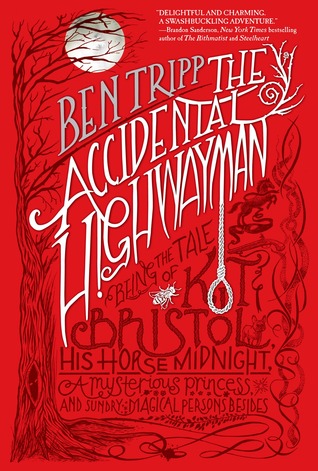 Title: The Accidental Highwayman
Author: Ben Tripp
Genre: Young Adult, Historical Fantasy
Series: The Accidental Highwayman #1
Hardcover, 304 pages
Publication: October 14, 2014 by Tor Teen
Source: I received a review copy from the publisher in exchange for a honest review.
Buy|

Amazon

|

Book

Depo

|
In eighteenth-century England, young Christopher "Kit" Bristol is the unwitting servant of notorious highwayman Whistling Jack. One dark night, Kit finds his master bleeding from a mortal wound, dons the man's riding cloak to seek help, and changes the course of his life forever. Mistaken for Whistling Jack and on the run from redcoats, Kit is catapulted into a world of magic and wonders he thought the stuff of fairy tales.

Bound by magical law, Kit takes up his master's quest to rescue a rebellious fairy princess from an arranged marriage to King George III of England. But his task is not an easy one, for Kit must contend with the feisty Princess Morgana, gobling attacks, and a magical map that portends his destiny: as a hanged man upon the gallows….
This is the most fun I had reading a historical fantasy young adult in a long time!
The Accidental Highwayman
is compared to be in the same vein as Star Dust and The Princess Bride and while I haven't read either book I did see the movie, Star Dust; and I can definitely see some comparisons. The book is set in 18th Century England, and the dialogue/writing definitely reflects the time-period perfectly. The lingo might take a while to get used to, but I don't think it detracts from the story. It instead gives an authentic feel to the characters and the setting. Tripp inhabits his world with fantastical creatures and beings that just leap off the pages, and enthralls the reader into a feel-good adventure with Kit and his misfit crew. What makes this book more charming is Tripp's use of illustrations (full page and small pictures) throughout the book, I absolutely love it.
The Accidental Highwayman
is narrated in first person by 16-year-old Kit who is such an adorable and likeable character. Kit use to be part of a traveling circus before he was employed by Master Rattle as the sole servant of the manor. He lived quite a simple life and is very content with how things are but on one of Master Rattle's usual nights, Kit finds his employer chased by bandits and injured at home. Kit dons his Master's clothes to misdirect the intruders but instead he finds himself picking up Rattle's task by a witch to save a lady who is none other then the Fairy King's daughter and only heir. Kit is suddenly thrust into this magical world that he never knew existed and he took everything in better than I expected. Of course he was freaked out when he found out he had to complete his Master's task, but I think how he handled it was very realistic…obviously scared and in awe at the same time. It was great to see Kit learn as he goes, and hilarious how he unintentionally out smart all his chasers from goblings, pixies, gryphons, Red Coats, The Rea Sea Duchess and even the Fairy King himself! Along his journey Kit picks up all sorts of wonderful unique friends such as the half human fairy princess who has unlimited powers yet to be discovered, tight-roper Lily (an old acquaintances when he was a kid), Lily's eccentric Uncle Cornelius, a smart/ (non-talking?) baboon and two tiny fairies that pack a whole lot of attitude.
I love, love, love
The Accidental Highwayman
! It has everything one looks for in a book; great world building, likeable characters and an action-packed plot. In my opinion, It embodies everything that makes a classic fairy tale-fantasy adventure story. The book is geared toward the young ddult audience, but I think even a younger audience such as middle-grade or older audience (like myself lol) will very much enjoy this book as it offers a little something for everyone. I highly recommend
The Accidental Highwayman
, and think readers will have as much fun reading it as I did. I can't wait for the sequel,
The Accidental Giant
! Be sure to check the Editor's Note on how the author came up with the story from using old documents he found in his ancestor's sea chest. How cool is that?!