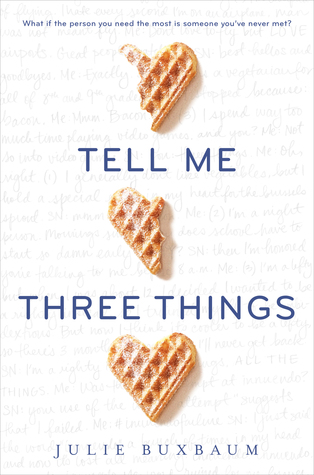 Title: Tell Me Three Things
Author: Julie Buxbaum
Genre: Contempory Fiction, Young-Adult
Series: N/A
Hardcover, 336 pages
Publication: April 5, 2016 by Delacorte Press
Source: I received a review copy from the publisher in exchange for a honest review/blog tour.
Pre-Order|

Amazon

|

B&N

|
What if the person you need the most is someone you've never met?



Everything about Jessie is wrong. At least, that's what it feels like during her first week of junior year at her new ultra-intimidating prep school in Los Angeles. Just when she's thinking about hightailing it back to Chicago, she gets an email from a person calling themselves Somebody/Nobody (SN for short);offering to help her navigate the wilds of Wood Valley High School. Is it an elaborate hoax? Or can she rely on SN for some much-needed help?

It's been barely two years since her mother's death, and because her father eloped with a woman he met online, Jessie has been forced to move across the country to live with her stepmonster and her pretentious teenage son.

In a leap of faith—or an act of complete desperation—Jessie begins to rely on SN, and SN quickly becomes her lifeline and closest ally. Jessie can't help wanting to meet SN in person. But are some mysteries better left unsolved?
First and foremost, I should mention I rarely read contemporary fiction, adult or young-adult. But there was something about the cover of

Tell Me Three Things

that caught my eyes and I knew I just had to read it. And I'm so glad I did because I absolutely loved it! Let me tell you three things: 1) This book will make you laugh and cry in the best ways. 2) It is unequivocally heart-warming and will evoke every feeling imaginable. 3) You will love this book.



Tell Me Three Things

is Buxbaum YA debut and it was amazing. While the basis of the plot has been done before, it is the writing and characters that makes this book standout. Buxbaum's novel is part book, part email and part messenger/texting…and while I'm not usually into the whole emailing/texting thing (I've seen some books done in this style) Bauxbaum made it work and created a whole new experience when it comes to reading. Well, for me at least. The emails/textings just made everything feel more personal; like I really knew Jessie, Dri, Scarlett and SN…they all felt relatable and realistic.

I loved Jessie, she was so adorable...an all-around great heroine. Jessie's life gets turned upside down when her mom passes away and her dad remarries; picking up and leaving everything behind as she and her dad moves to the suburbs of Los Angeles. Describing Jessie's life as chaotic might be an understatement; between dealing with her mom's death, moving in with people she's barely met and navigating junior high as the new girl is stressful and overwhelming but I thought Jessie handled her situation perfectly. Her best friend, Scarlett describes her as a ninja/fighter and it certainly fits. Jessie is strong, independent, brave, funny, and most importantly she knows who she is and doesn't let others define her. She's confident as heck, and I love that about her. As it is typical of high school, there's always a group of mean girls and bullying, and Jessie isn't immune to it as two girls constantly pick on her. Never once did Jessie let it get the best of her and never once did she stoop to their level or ratted them out. Jessie never pretends to be someone else or conform to the likes of her peers (In this case, rich private school kids). For a sixteen-year-old she is extremely mature, an old soul as her dad says.



Tell Me Three Things

was everything I looked for in a novel; it had a great story, realistic and lovable characters, a heroine with a great voice and personality, and an enthralling mystery (Yes, I kind of figured out who SN was but I was still at the edge of my seat as their meet-up came closer and closer)! I LOVE, LOVE, LOVE Tell Me Three Things! I know my review can't do it the justice it deserve , but trust me when I say this you don't want to miss this one! We're a little over a month and half till

Tell Me Three Things

hit shelves and I can't wait for everyone to read it. I know it's going to be a hit! I highly recommend this fun, sweet and heart-warming novel. It is, hands-down the best YA contemporary I've ever read. E-V-E-R. Pre-order the book now you guys, I'm that confident that you'll love it as much as I did! L-O-V-E. I will definitely be checking out Buxbaum's other books and I can't wait to see more YA books from her. World, get ready because Buxbaum's YA debut is going to make waves!