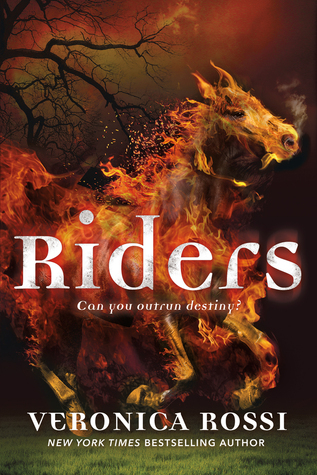 Title: Riders
Author: Veronica Rossi
Genre: Fantasy, Young Adult
Series: Riders #1
Hardcover, 384 pages
Publication: February 16, 2016 by Tor Teen
Source: I received a review copy from the publisher in exchange for a honest review.
*Thank you Tor Teen for sending me a finished copy!*
Buy|

Amazon

|

B&N

|
Nothing but death can keep eighteen-year-old Gideon Blake from achieving his goal of becoming a U.S. Army Ranger. As it turns out, it does.

While recovering from the accident that most definitely killed him, Gideon finds himself with strange new powers and a bizarre cuff he can't remove. His death has brought to life his real destiny. He has become War, one of the legendary four horsemen of the apocalypse.

Over the coming weeks, he and the other horsemen—Conquest, Famine, and Death—are brought together by a beautiful but frustratingly secretive girl to help save humanity from an ancient evil on the emergence.

Now—bound, bloodied, and drugged—Gideon is interrogated by the authorities about his role in a battle that has become an international incident. If he stands any chance of saving his friends and the girl he's fallen for—not to mention all of humankind—he needs to convince the skeptical government officials the world is in imminent danger.
When I first heard about Riders, I was intrigued. I mean, who doesn't know or love a tale about The Four Horsemen of the Apocalypse? I haven't read any book tackling the Four Horsemen; so I was pretty stoked to start Rossi's new YA series. It was a first for me, both in term of the mythology being used in YA and my first novel of hers. And I must say, I am impressed. This book was full of wonderful surprises.

The book opened with our main character, Gideon hooded and tied to a chair as he is interrogated by Agent Cordero. Something big and important just occurred and the only person with all the answers is eighteen-year-old Gideon. The first surprise for me was this book was narrated by a young man. I had no idea the point-of-view was going to be male! I had no problems about it but I guess I was just expecting a female narrative when it comes to YA. I can count all the times I've read YA with a male narrative on one hand. Yup, very few. Gideon was a great main character. I loved his voice/narration; he had that instant likability that is rare in YA (whether it be female or male characters). The second surprise was the way the narration was written. You know how in movies or shows when it begins at the end (like the shows Revenge and How to Get Away with Murder) just like that. Readers are dropped into the scene with Gideon held captive and then we rewind back to the beginning to learn/see all the events leading up to the present where Gideon is being held against his will. The book jumps back and forth between the present and past all the while Gideon is telling Cordero the story. It's all very fascinating, this technique. I haven't seen it done before till now (I may sound confusing, but you really must read it to understand).

As I mentioned before, I liked Gideon right off the bat. Sure, he was a tad cocky, impulsive, and had some anger issues but at the same time he was fiercely loyal and went the extra mile for the people he cared about. As far as anger issues went, there was a good, understandable reason behind it. So no, he's wasn't a typical angsty boy for no reason. The reason was a family matter and Gideon held onto a lot of anger and guilt at the beginning of the book. But as the story progressed Gideon learned to accept the past, to forgive and to channel his newfound powers/density towards saving the world from demons hell-bent on enslaving humanity. The secondary characters were just as awesome. Jode, Bas, and Marcus; the other three horsemen were an eclectic bunch. I loved them as individuals as well as a group. It was fun seeing everyone learn about their abilities and how/why they were chosen to be the embodiment of Conquest, Famine and Death. And you know the phrase behind every strong man is a strong lady….well, in this case behind these young men was Daryn, a seeker who is task with bringing the horsemen together. She's an enigma and while she is constantly with the gang, she is very reserved and only discloses the need-to-know facts to the guys. I can't really make heads or tails about her yet, so I hope we learn more about Daryn in the next book. (I just saw on Goodreads that the next book is titled Seeker, so looks like I will be getting my wish?!!).

That twist at the end was so unexpected! I was like...''Wow, totally didn't see that coming!''. And as far as climactic scene goes, it was pretty darn good. I was on pins and needles the entire time. All in all,

Riders

was an excellent start to a brand new series. It had action from start to finish, a lot of heart, and a harmonious balance of romance (bromance lol), humor and mystery. I love the world building, characters and the mythology and can't wait to read the sequel, Seeker when it comes out!