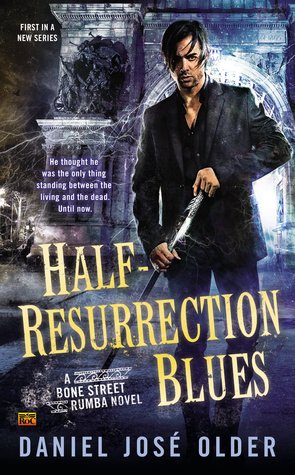 Title: Half-Resurrection Blues
Author: Daniel José Older
Genre: Urban Fantasy
Series: Bone Street Rumba #1
Mass Market Paperback, 326 pages
Publication: January 6, 2015 by Roc
Source: Personal library.
Buy|Amazon|B&N|
Carlos Delacruz is one of the New York Council of the Dead's most unusual agents—an inbetweener, partially resurrected from a death he barely recalls suffering, after a life that's missing from his memory. He thinks he is one of a kind—until he encounters other entities walking the fine line between life and death.

One inbetweener is a sorcerer. He's summoned a horde of implike ngks capable of eliminating spirits, and they're spreading through the city like a plague. They've already taken out some of NYCOD's finest, leaving Carlos desperate to stop their master before he opens up the entrada to the Underworld—which would destroy the balance between the living and the dead.

But in uncovering this man's identity, Carlos confronts the truth of his own life—and death…
Half-Resurrection Blues

has been sitting on my shelf for over a year. I remember buying it in the early months of its release but never got around to it. Lately however, the last few fantasy novels I've read were all ghost based. Then I remembered about Half-Resurrection Blues, so I decided to finally pick it up…I mean I was on a roll with all these ghost-related books. Within the first page, I was berating myself. Why didn't I read this book sooner, like a year ago! Because within the first page, I knew I was going to like this book and it exceeded beyond my expectations.

Half-Resurrection Blues

is unlike any Urban Fantasy, ghost-noir I've read. And I loved every second of it!

Many of the reviews for HRB praised Older's prose and I agree with them wholeheartedly. I thought it was different, a bit clunky/rough but I mean this in the best way possible. I don't know how to explain it exactly but I found it to be a harmonious counterpart to the world building and characters. It just felt right. As for Older's New York and its inhabitants; they were so meticulously detailed and described that I can vividly see everything and everyone. I think one of the hardest things about writing a book may be capturing all of the five sensory details but Older didn't have a problem with that in this debut novel. Not only is it well done and executed but I truly got a good sense of Agent Delacruz's Brooklyn as if I was there amongst the living and the dead.

Carlos, our protagonist, is somethin' special. And no, it's not because he's an in-betweener, a person who is neither dead nor alive. I'll be honest. As first impression goes, on the surface, Carlos was kind of like a kid. He didn't know much about anything, didn't care much in general, about anything, didn't question the system/or his superiors, and did what he was told…which he also didn't question. Normally, a character like that would be an automatic turn-off for me. But Carlos is an exception and he's surely isn't a child. Carlos had this care-free nature thing going on and I loved his I-don't-give-a-shit attitude…and the man cusses like a sailor. Well, everyone in this book does…even the youngsters like Kia (I'm usually not fond of book that uses a lot of curse words, but Older made it work lol). Most of the Urban Fantasies I've read are full of snarky, strong, and kick-ass females. Exactly how I like them. I don't remember, at least nothing comes to mind at the moment, of any strong male lead that rivaled all those female UF protagonists. Until now. Carlos is a breath of fresh air in the Urban Fantasy genre; he's snarky without trying, quirky but still had that bad-boy vibe going on, and was unapologetic. Unlike most males in UF who are typically the broody and serious types…and sometimes just plain ol' douches. For someone who is described as washed out grayish, Carlos is an effervescent character as are his motley crew.

Bottom line, if you haven't read

Half-Resurrection Blues

yet…you need to get on it ASAP! Don't be like me. I'm all late to the party and should've of read it a year ago! I read a lot of Urban Fantasies and it's been awhile since I read a debut that was not only fresh but also fun and engaging. I highly recommend Half-Resurrection Blues and am looking forward to reading more of this great series. Who knew reading about ghosts can be so entertaining!