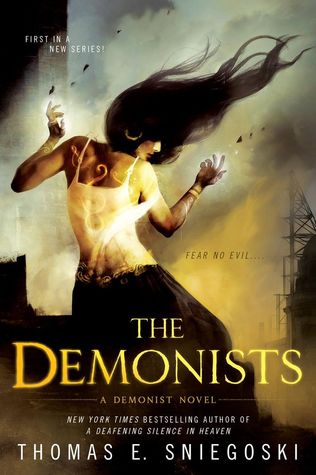 Title: The Demonists
Author: Thomas E. Sniegoski
Genre: Urban Fantasy
Series: Demonists #1
Trade Paperback, 336 pages
Publication: April 5, 2016 by Roc
Source: I received a review copy from the publisher in exchange for a honest review.
Buy|

Amazon

|

B&N

|
There is more to our world than meets the eye—darker things, crueler things. Exorcist John Fogg and his wife, psychic medium Theodora Knight, know what lurks in the shadows. But even they're not prepared for the worst

Hell has to offer...

It was supposed to be a simple exorcism, a publicity stunt to firmly establish John and Theodora's thriving paranormal investigation empire in the public eye.

But something went wrong, leading to an on-air massacre that unleashed a malicious host of demons and left Theodora catatonic, possessed by countless spirits.

John sets out on a desperate quest to find a cure for his wife, but his obsession brings him face-to-face with an even more terrifying problem: Theodora's possession is only one piece of a deadly plot that is threatening the entire world. Because an ancient evil is about to make Earth its battlefield—and without John and Theodora's intervention, there is no chance for salvation...
I'll be the first to admit, I'm one of those folks that enjoy watching paranormal/ghost reality shows. Whether it's real or not, whether you believe it or not are all part of the fun! When I first heard about

The Demonists

I was immediately intrigued! Sniegoski takes the idea of a ghost reality show and incorporates evil vengeful spirits, a missing children investigation and secret societies seamlessly; creating a dark and compelling world.

There were a lot of different plot lines at play throughout the book, which meant there were a lot of characters. It was a little overwhelming at first, with multiple POVs one after the other but a few chapters in, I was able to differentiate who was saying what. We have our two main characters, husband and wife John and Theodora, Elijah, leader of an organization that battles evil entities, and 'The Teacher', a child abductor who was snatching 6 year-olds across the country. At first, the plot lines looked unrelated to one another but as readers progressed, the various plot lines converged towards a satisfying ending that wrapped up neatly but also left room for more books in the series. I thought most of the characters were very interesting. Everyone had some sort of run in with the paranormal and I loved reading about their background and how that affected their choices/ the actions they took. The only two characters I had an issuing connecting with were the two main characters, John and Theodora. I tried to sympathize with their situation but I never did. The prologue with the two meeting and Halloween night had me more engaged then later on when Theodora came down with an affliction. But this is the beginning to a new series, so there's always room for character growth and development. Which I hope we'll see in the next installment.

All in all,

The Demonists

was a good start to a brand new series. Let me warn you though, that this is an extremely dark fantasy. If there weren't any of the fantasy elements, this book would probably be categorized as a horror novel. It's very graphic and detailed. I'm all for dark fantasy, so of course I highly recommend it but a word of advice: don't read it before bed! I look forward to seeing where Sniegoski takes this group of Demonists!
Thanks to the wonderful people at Penguin, I have two (2) copies of THE DEMONISTS to giveaway! To enter, please fill out the Rafflecopter below! Thank you.
a Rafflecopter giveaway