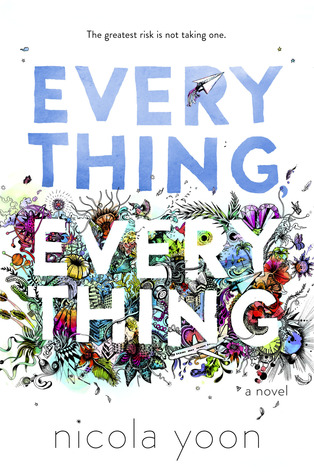 Title: Everything, Everything
Author: Nicola Yoon
Genre: Contemporary Fiction, Young Adult
Series: N/A
Hardcover, 310 pages
Publication: September 1, 2015 by Delacorte BFYR
Source: Personal Library.
Buy|

Amazon

|

B&N

|
My disease is as rare as it is famous. Basically, I'm allergic to the world. I don't leave my house, have not left my house in seventeen years.

The only people I ever see are my mom and my nurse, Carla.

But then one day, a moving truck arrives next door. I look out my window, and I see him. He's tall, lean and wearing all black—black T-shirt, black jeans, black sneakers, and a black knit cap that covers his hair completely. He catches me looking and stares at me. I stare right back. His name is Olly.

Maybe we can't predict the future, but we can predict some things. For example, I am certainly going to fall in love with Olly. It's almost certainly going to be a disaster.
I think everyone has read Everything, Everything. It's been on everyone's must read list, top ten list, top five and of course, the New York Time's Bestseller List. It's been two years since it's release and I never got around to reading it. Until I saw the trailer for the movie. I thought the trailer looked really cute and wanted to read the book before watching the movie. And yup, the book was cute.

My favorite part of the story was the beginning of Maddy and Olly's relationship. It was new, exciting and adorable. But it wasn't all lovey dovey all the time. It's safe to say, since I'm positive everyone has read the book, that Maddy gets sick after her brief runaway to Hawaii. I didn't like how she automatically shut olly out after coming home from Hawaii. She broke so many rules and risked her life...why not go the extra mile? why retreat back behind her walls and shut him out like he never existed? I found her dismissal of him vexing. The book was also fairly short, and made shorter with the email/messaging and drawing. Most people enjoy that type of format and the cute drawings but I honestly wasn't a fan of it. I skipped most of the drawing/explanation. Cute but not needed.

Everything, Everything overall was very well written and as I said cute. But the themes and plot has been done before, nothing new or groundbreaking here. With the hype it got and the big movie set to premiere in two weeks…I was expecting a lot more. I was expecting to be wowed. Bottom line, Everything, Everything is a good story that follows a predicable formula and had a happy satisfied ending. While I didn't love it as I hoped, I think others will enjoy it more than me. I'd still recommend it, but I think there are better Contemporary Young Adult novels out there.

* I had a chance to view an early screening of Everything, Everything. It was cute and I thought the actors chosen were great. But the movie itself was very choppy and rushed. And in the case of which was better? The book certainly win
s.