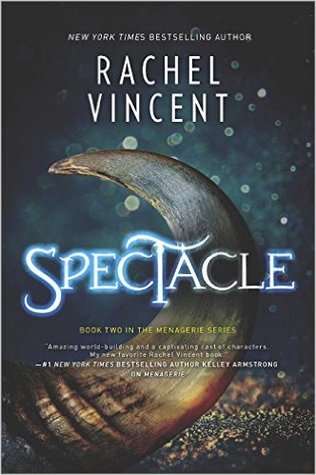 Title: Spectacle
Author: Rachel Vincent
Genre: Speculative Fiction
Series: Menagerie #2
Trade Paperback, 400 pages
Publication: May 30, 2017 by Mira
Source: I received a review copy in exchange for a honest review.
Buy|

Amazon

|

B&N

|
When their coup of Metzger's Menagerie is discovered, Delilah and her fellow cryptids find their newly won freedom brutally stripped away as they are sold into The Savage Spectacle, a private collection of "exotic wildlife." Specializing in ruthless cryptid cage matches, safari-style creature hunts and living party favors, the Spectacle's owner, Willem Vandekamp, caters to the forbidden fetishes of the wealthy and powerful. At the Spectacle, any wish can be granted—for the right price.

But Vandekamp's closely guarded client list isn't the only secret being kept at the Spectacle. Beneath the beauty and brutality of life in the collection lie much darker truths, and no one is more determined than Delilah to strip the masks from the human monsters and drag all dark things into the light.
I had the pleasure of reading Menagerie last year and absolutely fell in love with Vincent's new series. It was one of my top novels of 2016. I honestly wasn't sure if Spectacle could out do the last book. I knew Vincent wasn't going to make life any easier for Delilah and the Metzger crew, but never in a millions years did I expect what was going to happen in Spectacle. It had everything that I loved in the first book and so much more. I was blown away by Vincent's writing and storytelling, she certainly out did herself. No sophomore slump here!
Spectacle takes place approximately a month after the events of the first book. Delilah and the other cryptids are somewhat free now after hijacking the menagerie. The traveling show is still making it's engagement from city to city but little do the humans know that the cryptids are really running the shows. Until a rival cryptid dealer found out the truth about Metzger's Menagerie. Delilah and her cryptid friends found themselves locked-up once again and at the mercy of The Savage Spectacle's owner, Vandekamp. Spectacle was as gruesome, horrifying and unimaginably crueler than its predecessor and this time around we saw a different kind of abuse. Menagerie was all about physical, bodily abuse and the endurance of an individual. We saw that again, but this time it was all about the the psyche. Showing us that abuse, torture and imprisonment could take on many forms; and doesn't necessarily mean chains, whips, or starvation.
Spectacle and the series as a whole is not for the faint of heart. This book is brutal. The things done to the characters are pure evil and disgusting. There are some pretty horrific descriptions of what happens to the characters in the book. But Vincent's storytelling isn't all about brutality. It's about rising up and breaking the metaphorical chains. It's about people/species as one, the 'underdogs' fighting for equal rights and their freedom. The humans in Vincent's world see the cryptids as nothing but barbaric monsters, but again we see that appearances, the species they're born into doesn't define them or make them inherently good or evil. It's the choices one make. And that sometimes the real monsters are not what you'd picture with sharp fangs and claws. Vincent also paints a terrifying picture of a different type of torture. In Spectacle, Vandekamp uses high-tech collars to control the cryptids. He could immobilize, silence them and induce pain with a touch of a button. Slowly taking away their free will and their will to fight. I honestly didn't think anything could be worst than Metzger, but a cage is a cage no matter how shiny and pretty it looked.
If you love dark Speculative Fiction, then read this series. If you want a thought-provoking story, read this series. If you want to read one of 2017 must read novels, then read this series. This series, needs to be read in order, so I suggest starting with Menagerie. Spectacle exceeded all of my expectations and I thought the sequel was even better than the last book. I loved Spectacle! It was unputdownable and had me constantly on the edge of my seat. I can't wait for the third book, especially with the little revelation at the end. I was super happy about it! Someone needs to acquire this series for TV/movie rights stat!