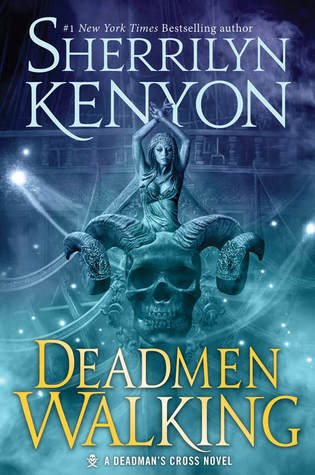 Title: Deadmen Walking
Author: Sherrilyn Kenyon
Genre: Fantasy
Series: Deadman's Cross #1
Hardcover, 384 Pages
Publication: May 9, 2017 by Tor Books
Source: I received a review copy from the publisher in exchange for a honest review.
Buy|

Amazon

|

B&N

|

To catch evil, it takes evil.

Enter Devyl Bane an ancient dark warlord returned to the human realm as one of the most notorious pirates in the New World. A man of many secrets, Bane makes a pact with Thorn an immortal charged with securing the worst creations the ancient gods ever released into our world. Those powers have been imprisoned for eons behind enchanted gates . . . gates that are beginning to buckle. At Thorn s behest, Bane takes command of a crew of Deadmen and, together, they are humanity s last hope to restore the gates and return the damned to their hell realms.

But things are never so simple. And one of Bane s biggest problems is the ship they sail upon. For the Sea Witch isn t just a vessel, she s also a woman born of an ancient people he wronged and who in turn wronged him during a centuries long war between their two races a woman who is also sister to their primary target. Now Marcelina, the Sea Witch, must choose. Either she remains loyal to her evil sister and almost extinct race against Bane and his cause, and watches humanity fall, or she puts faith in an enemy who has already betrayed her. Her people over the totality of humanity let s hope Bane can sway her favor.
This is kind of embarrassing to say, but I have never read a book by Sherrilyn Kenyon. Ever. Anyone who reads within the Paranormal/Fantasy Genre has read one of her series, or at least a novel of hers. I've heard great things about her Dark-Hunter and Chronicles of Nick Series but never gotten around to reading them. So when I heard about Kenyon's latest series, Deadmen's Cross featuring demons and pirates, I all but jumped on the chance to read it. And I am so glad I did. It was packed with endless action, witty dialogue, unique mythology and great world-building and characters.

After reading a couple of reviews, it seem that Deadmen's Cross is a series within Kenyon's Dark-Hunter Universe, with a couple of characters mentioned and showing up. Deadmen Walking is set in the 1700s and follows Devyl Bane and his crew of the dead. Kenyon heavily incorporates Norse Mythology and probably others that I've never heard about which made for a very interesting read. There was definitely a lot of characters, each with their own history and background. I loved learning about everyone, especially Bane's crew. Being dead for a reason, the crew gave the impression that they were the kind of evil, even hell didn't want. But as readers come to learn of their haunted past; it turned out to be more melancholic and heartbreaking then I could imagine. The world that Kenyon created is meticulous and multifaceted but she wrote it in a way that I never felt lost or confused. Which is very important and has happened in new series more often then I'd like to admit.

Deadmen Walking is a Paranormal Romance, something I wasn't aware of upon starting it. If anyone has read my reviews or follows the blog know that I rarely read them. I usually like my stories focused on one pair of leads throughout a series versus a new lead in subsequent books. However, as I said I really liked the cast and am more than likely going to pick up the next book even if it doesn't feature Devyl and Mara. Overall, I thought Deadmen Walking was an excellent series opener. Kenyon's old fans will be delighted to see a new series in the Dark-Hunter Universe while new fans will devour this and will be jumping on another series as we wait for the next Deadmen's Cross novel which hits stores in 2018; featuring Merman Kalder and the Seraphina Cameron. I loved Deadmen Walking and highly recommend it! It certainly deserve the hype it was getting!