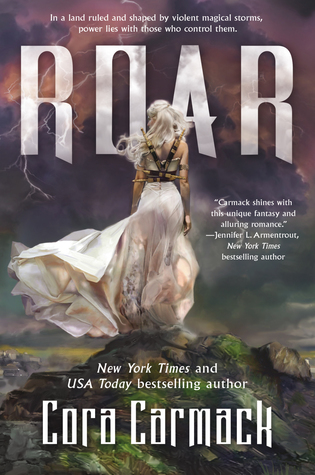 Title: Roar
Author: Cora Carmack
Genre: Young Adult, Fantasy
Series: Stormheart # 1
Hardcover, 380 Pages
Publication: June 13, 2017 by Tor Teen
Source: I received a review copy from the publisher in exchange for a honest review.
Buy|Amazon|B&N|
In a land ruled and shaped by violent magical storms, power lies with those who control them.

Aurora Pavan comes from one of the oldest Stormling families in existence. Long ago, the ungifted pledged fealty and service to her family in exchange for safe haven, and a kingdom was carved out from the wildlands and sustained by magic capable of repelling the world's deadliest foes. As the sole heir of Pavan, Aurora's been groomed to be the perfect queen. She's intelligent and brave and honorable. But she's yet to show any trace of the magic she'll need to protect her people.

To keep her secret and save her crown, Aurora's mother arranges for her to marry a dark and brooding Stormling prince from another kingdom. At first, the prince seems like the perfect solution to all her problems. He'll guarantee her spot as the next queen and be the champion her people need to remain safe. But the more secrets Aurora uncovers about him, the more a future with him frightens her. When she dons a disguise and sneaks out of the palace one night to spy on him, she stumbles upon a black market dealing in the very thing she lacks—storm magic. And the people selling it? They're not Stormlings. They're storm hunters.

Legend says that her ancestors first gained their magic by facing a storm and stealing part of its essence. And when a handsome young storm hunter reveals he was born without magic, but possesses it now, Aurora realizes there's a third option for her future besides ruin or marriage.

She might not have magic now, but she can steal it if she's brave enough.

Challenge a tempest. Survive it. And you become its master.
Roar was one of my highly anticipated reads of 2017 and I'm happy to say it didn't disappoint. I've never read anything by Carmack but I've heard great things about her new adult series and was excited to finally check out her novel and what better way then to check out her debut novel, Roar.
2017 seemed to be the year of high fantasy and science fiction but most of the Young Adult novels released started to blend and bleed together. They were too similar to one another that it was difficult to set itself truly apart. Roar didn't have this problem, as there are very few elemental novels on the market. The concept of the Roar was unique and refreshing. My favorite aspect of the novel was the world building. The Lands of Caelira consisted of different kingdoms, each family of nobility descended from a Stormling (those with the power to weld storms or any element such as rain, fire etc). The book was center around Aurora Pavan, a princess and heir to the Pavan Kingdom. Unlike the other kingdoms' heirs, Aurora had no stormling abilities and the only way to protect her kingdom was to marry into another stormling family. Upon meeting her betrothed and learning more about him and his plans; Aurora fleed the kingdom and joined a group of storm hunters. She hoped by capturing her own stormhearts, she would have the power to protect her people and be the queen she was destined to be.
I loved how independent Aurora was, like the whole princess that can save herself and didn't need a prince or man. Which isn't to say there isn't a prince or man vying for Aurora's hand. Aurora may not have had any powers but what she lacked, she made up for in brains and skills. Not only was Aurora extremely book smart, can speak five languages, but she can also fight as well and is skilled with swords and bow and arrows. Locke, one of the love interest was your typical alpha male. And at first I thought it was all swoon worthy but as the book progressed Locke just became more dubious. He was very protective and possessive of Aurora to the point where it was creepy and bothersome. Since I'm pretty sure this novel played out over the course of a few days, I thought that was just falling too fast. And although, his behavior got uncomfortable, it didn't take away from me enjoying the story.
Roar is an excellent start to a new series and I really enjoyed it. I can't wait to see what happens next for Aurora 'Roar' and the storm hunters…Especially when she can no longer hide her identity! All in all, great world building, characters and writing. I highly recommend it!