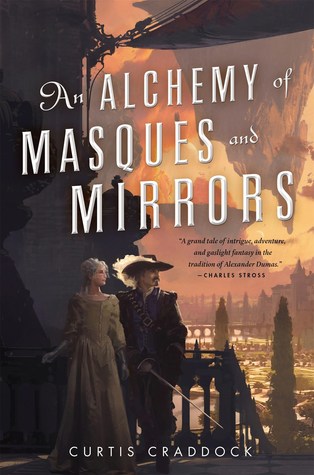 Title: An Alchemy of Masques and Mirrors
Author: Curtis Craddock
Genre: Fantasy
Series: The Risen Kingdom # 1
Hardcover, 416 Pages
Publication: August 29, 2017 by Tor Books
Source: I received a review copy from the publisher in exchange for a honest review.
Buy|Amazon|B&N|
A polymath princess and her faithful musketeer must unravel the plot of a thousand-year-old madman in order to save an a foreign kingdom from a disastrous civil war.



Caelum is an uninhabitable gas giant like Jupiter. High above it are the Risen Kingdoms, occupying flying continents called cratons. Remnants of a shattered world, these vast disks of soaring stone may be a thousand miles across. Suspended by magic, they float in the upper layers of Caelum's clouds.

Born with a deformed hand and utter lack of the family's blood magic, Isabelle is despised by her cruel father. She is happy to be neglected so she can secretly pursue her illicit passion for math and science. Then, a surprising offer of an arranged royal marriage blows her life wide open and launches her and Jeane-Claude on an adventure that will take them from the Isle des Zephyrs in l'Empire Céleste to the very different Kingdom of Aragoth, where magic deals not with blood, but with mirrors.
An Alchemy of Masques and Mirrors is a book I didn't know I was looking for and unquestionably a breakout hit (at least for me) and an underrated gem of 2017! Never have I read a book that perfectly blended multiple genres together and done so well. I thought the world building was fascinating as it was complex, the characters were well developed and fleshed out from the main protagonists to the tertiary characters, and every word written was eloquently prosed; captivating me from the first page till the very end.

The world that Craddock created is extremely unique, multifaceted and rich. Imagine a world of sky landmasses and flying airships thanks to the outset of science and alchemy. Craddock's world is massive, comprising of different empires and families of blood-borne sorcery that dated back thousands of years. And in this first installment of The Risen Kingdom, readers barely touch upon the surface as Craddock introduced us to our main protagonist Princess Isabelle, who came from the Sanguinaire line, an ancient line that dealt in blood magic/shadows. Isabelle was the bane of her father existence. Born with a congenital anomaly of her right-hand, no blood magic ability and a woman nonetheless; Isabelle has always been looked down upon by her father,the court and The Kingdom of Zephyrs. But what Isabelle lacked (in the eyes of others) she made up for with a lot of heart, intelligence and bravery. I absolutely adored Isabelle from the moment I saw her as the precocious child that she was. Forward a decade and some years; readers see Isabelle blossomed into a woman that she never thought she'd be; risking everything for a kingdom and it's people that despised her as much as they feared her..hoping to bring about peace, an idea many thought silly, dubious and unattainable. I found Isabelle admirable and I loved that Craddock showed us how capable and intelligent Isabelle was versus telling the reader she is so. From her Nom de Plume as Lord DuJournal a well-known and versed Mathematician with many publications to her outwitting would-be assassins, Kantelvar a member of the Seven Great Guide, and an evil Countess.

Another great standout character was Isabelle's trusty and loyal musketeer, Jean-Claude who is more like her confidant and father. When Isabelle was born, they tried to snuff her out but thanks to Jean-Claude's intervention her life was spared. And it was under the direct order of the King Le Roi that Jean-Claude keep Isabelle safe from harm and danger for as long as he deemed necessary. So what initially started as an obligation transformed into a father-daughter relationship over the course of Isabelle's life. I loved Jean-Claude as much as Isabelle. Jean-Claude played a drunken-fool so that everyone around him underestimated him; little did they know he was sharp and clever as they come and was always two steps ahead of his enemies. I thought their bond and relationship was heartwarming. There wasn't anything Jean-Claude wouldn't do for Isabelle, he would've traveled through hell and take on Lucifer himself if he had to. Jean-Claude was pragmatic and serious when the time called for it but he definitely kept me laughing and smiling with his silver-tongue throughout the entire book. I thought Jean-Claude and Isabelle made the perfect duo and loved that Craddock showcased their ever evolving relatonship, and kept that as the main tone when so many underlying threads were going on simultaneously.

An Alchemy of Masques and Mirrors is hands down the best Fantasy novel I've read in a long time and certainly the best book I've read so far this year. I loved, loved Craddock writing style. I thought everything flowed perfectly, every word he chose just fit and made sense. I also loved how he incorporated French and Spanish influences into his story; thought that was different. The plot at a glance looked fairly basic, a princess marrying a rival prince to escape her evil father…however, it was so much more complicated than anything I could of imagine. There were twist upon twist and I loved that I kept getting surprised…even when the clues were all right there! An Alchemy of Masques and Mirrors has everything you'd want in a story. I LOVED this book (think I over killed it with using the word loved) and I can't wait till the sequel comes out! Craddock is a writer to watch and has just landed on my auto-buy author list. Do yourself a favor and go to the store and get this book A.S.A.P., you won't regret it! I see great things coming from Craddock and this new series opener. I'd rate it more than 5 stars if I could!