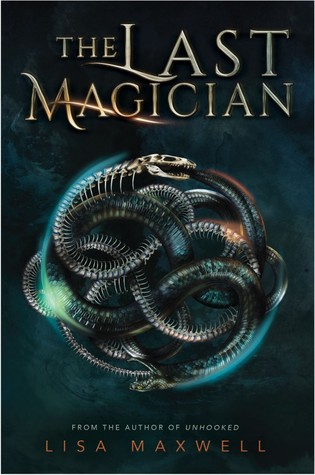 Title: The Last Magician
Author: Lisa Maxwell
Genre: Young Adult
Series: The Last Magician #1
Hardcover, 512 Pages
Publication: July 18, 2017 by Simon Pulse
Source: I received a review copy from the publisher in exchange for a honest review.
Buy|

A

mazon

|

B&N

|
In modern-day New York, magic is all but extinct. The remaining few who have an affinity for magic—the Mageus—live in the shadows, hiding who they are. Any Mageus who enters Manhattan becomes trapped by the Brink, a dark energy barrier that confines them to the island. Crossing it means losing their power—and often their lives.

Esta is a talented thief, and she's been raised to steal magical artifacts from the sinister Order that created the Brink. With her innate ability to manipulate time, Esta can pilfer from the past, collecting these artifacts before the Order even realizes she's there. And all of Esta's training has been for one final job: traveling back to 1902 to steal an ancient book containing the secrets of the Order—and the Brink—before the Magician can destroy it and doom the Mageus to a hopeless future.

But Old New York is a dangerous world ruled by ruthless gangs and secret societies, a world where the very air crackles with magic. Nothing is as it seems, including the Magician himself. And for Esta to save her future, she may have to betray everyone in the past.
The Last Magician has been on my radar since the cover reveal months ago. After seeing it and reading the synopsis I knew it was going to be one of 2017's most wanted/anticipated novels. And it certainly was, staying on the NYT Bestseller List for weeks! The Last Magician had a lot going for it involving magic, politics, societal issues, time-traveling, heist/con, well-thought out world building, great characters and so much more. Unlike most YA novels on the market, The Last Magician was pretty hefty in terms of page number and had a complex world-building. I thought Maxwell did an amazing job capturing New York during the 1900's. The vivid imagery/details clearly showed the amount of time and research that went into the story. I truly felt as if I was there and that the characters were realistic, made whole/fleshed as if they were alive. I love the whole Gangs of New York feel with Magic (Yes, I know the movie is set in the 1800's)!

At a glance, you'd expect or assume The Last Magician to be some sort of boarding school novel with magical users dealing with adolescent issues. Nope. The Last Magician was more dark, gritty and it had a whole lot of street smarts involved. I loved Maxwell's take on magicians and the magic system. Maegus, are those born with magical powers and are feared by the common man who put up a magical/aetheral barrier "The Brink" to severely damage/kill those who posses any hint of magic because they believed it to be evil and feral. I liked that the majority of our characters are also approximately eighteen-years-old to late twenties, and back then the times made one grow-up even quicker than they wanted to. Our heroine, Etsa is seventeen but from a young age she was taught to be a weapon, using her training and ability to make her a undetectable and uncatchable thief. I adore Etsa, she's independent, a quick thinker, resourceful and smart. Dolph's crew was an eclectic bunch, all Maegus of varying abilities with the common goal of taking down the order, bringing magic back to it's former glory and to protect those that cannot protect themselves. Each member was distinctly unique and had an interesting back story that I wouldn't mind exploring more of like; Jianyu and Viola, both related to rival gangs, but find themselves in the employment/gang of Dolph Saunder, an enigmatic character (it'd be awesome to see his rise to power, I see a story or novella in the future!)

While The Last Magician is part time-traveling, the majority of the story is set in the past in the year 1901. Which I didn't mind, I am quite fond of this century. All in all, The Last Magician lived up to the hype and was way better than what I expected. I love everything about this book. I am so glad this is part of a duology because I wasn't ready to say goodbye to the characters.Despite the book clocking out at over 500 page, it was a quick read that had me from the very first page! The beginning was a bit confusing jumping back and forth from the past and present, but it was a good surprise when all the thread came together. And that ending! I was so engrossed into what was happening that I didn't even see it coming, talk about a shocker! Loved it! If you haven't read this new series starter, go out and get it now. I highly recommend it!