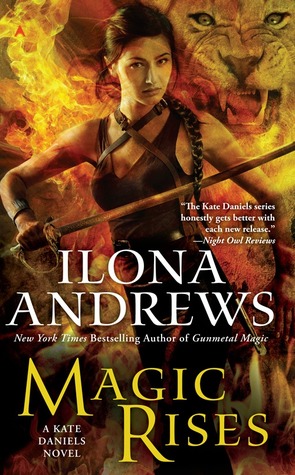 Title: Magic Rises
Author: Ilona Andrews
Genre: Urban Fantasy
Series: Kate Daniels # 6
Mass Market Paperback, 327 Pages
Publication: July 30, 2013 by Berkeley Publishing Group
Source: Personal Library
Buy|

Amazon

|

B&N

|
Atlanta is a city plagued by magical problems. Kate Daniels will fight to solve them—no matter the cost.

Mercenary Kate Daniels and her mate, Curran, the Beast Lord, are struggling to solve a heartbreaking crisis. Unable to control their beasts, many of the Pack's shapeshifting children fail to survive to adulthood. While there is a medicine that can help, the secret to its making is closely guarded by the European packs, and there's little available in Atlanta.

Kate can't bear to watch innocents suffer, but the solution she and Curran have found threatens to be even more painful. The European shapeshifters who once outmaneuvered the Beast Lord have asked him to arbitrate a dispute—and they'll pay him in medicine. With the young people's survival and the Pack's future at stake, Kate and Curran know they must accept the offer—but they have little doubt that they're heading straight into a trap…
The final Kate Daniel novel releases this year. So, I thought It'd be a good time as any to catch up on the series. I don't know why but I've been holding off on reading the series for years, even though it's my favorite series and I know it's going to be great…and of course, it was! The sixth installment in the series takes Kate, Curran, Derek, Andrea…and a few more away from The Keep as they travel across The Black Sea to act as bodyguards to Dessandra, a shifter whom is about to give birth to twins in exchange for a cure for lupism. The gang know that it's likely a trap, but they're in for a rude awakening when the find out who's in charge and things are a lot worst than it seems.

There's A LOT that went on in Magic Rises. Kate and Curran's relationship is tested by Curran's former acquaintance, the other two packs has it out for Kate feeling she's unfit to be a consort because she's not a shifter, unknown creatures are wrecking havoc on the island, and Kate's history and identity is at risk of being exposed. I'm sure there were more things but like I said, there's too many things going on at once.

I've been following this series for almost 10 years now, and with each book it just gets better and better. The world building is complex and ever-expanding; there's always something new to discover. And I love seeing the characters grow into their person and their relationship with one another. It crazy to see how far everyone has come. The third book in the series has been my favorite book for the longest time, but now Magic Rises takes the coveted position (but I'm pretty sure that's going to change again when I read the next book lol). Magic Rises made me deliriously happy, annoyed, left me gobsmacked and a few more emotions I can't reiterate.

It made me happy because, hello…it's a Kate Daniels novel. Enough said. But really, I liked that it took place in a new location with new characters. Kate was totally bad-ass, as usual. The other packs verbally and physically attacked her and she handle everything like it was a walk in the park. She didn't care about anyone's opinion of her. When they voiced their doubts about her, instead of stooping to their level by arguing, Kate showed her worth by her actions which spoke volumes. Kate and Curran's relationship was pretty close of being over at one point. For the majority of the book Curran spent his time with a former lady acquaintance as rumor flew that Kate was going to get replaced. I was annoyed that Kate actually believed it! She and Curran have been through so much together and I was surprised that she actually doubted his loyalty and love for her. And finally, to say I was shocked at the events towards the end is an understatement. There were casualties, we lost a favorite shifter! I literally gasped out loud during the dining hall scene…because all hell broke loose.

Andrews have written yet another amazing addition to the Kate Daniel Series. Magic Rises is definitely a game-changer and I can't wait to see what happens next…I have a feeling it's going to be big. Maybe Roland will finally make an appearance! All in all, I love this book and series, it's one of the best Urban Fantasy out there and is still going strong after six books. Normally when authors publish four or more books in a series, things get stale, redundant, dull or some combination of all three but Andrews don't have that issue…ever. If you want to read the best that Urban Fantasy has to offer, then you need to read this series A.S.A.P. Trust me, you won't regret it!