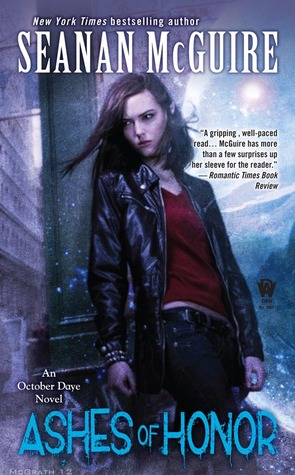 Title: Ashes of Honor
Author: Seanan McGuire
Genre: Urban Fantasy
Series: October Daye #6
Mass Market Paperback, 353 pages
Publication: September 4, 2012 by DAW
Source: Purchased for my own reading.
Buy|

Amazon

|

Book Depo

|
It's been almost a year since October "Toby" Daye averted a war, gave up a county, and suffered personal losses that have left her wishing for a good day's sleep. She's tried to focus on her responsibilities—training Quentin, upholding her position as Sylvester's knight, and paying the bills—but she can't help feeling like her world is crumbling around her, and her increasingly reckless behavior is beginning to worry even her staunchest supporters.

To make matters worse, Toby's just been asked to find another missing child…only this time it's the changeling daughter of her fellow knight, Etienne, who didn't even know he was a father until the girl went missing. Her name is Chelsea. She's a teleporter, like her father. She's also the kind of changeling the old stories warn about, the ones with all the strength and none of the control. She's opening doors that were never meant to be opened, releasing dangers that were sealed away centuries before—and there's a good chance she could destroy Faerie if she isn't stopped.

Now Toby must find Chelsea before time runs out, racing against an unknown deadline and through unknown worlds as she and her allies try to avert disaster. But danger is also stirring in the Court of Cats, and Tybalt may need Toby's help with the biggest challenge he's ever faced.

Toby thought the last year was bad. She has no idea.
It's been three years since I read the October Daye series. I always tell myself I'd start the next book, and next thing I know I'm three books behind. Although it's been three years, jumping back into October's world with Ashes of Honor felt effortless; like going back home after a long vacation. It was like I never even left. Ashes of Honor is the 6th book in the October Daye series, taking place approximately a year after the events of One Salt Sea. In this installment October is still in the midst of grieving over the death of her boyfriend Connor and losing her daughter Gillian (who took the changeling choice, and chose to be human). By losing two people October loves the most she has kept everyone at arm's length while seeking solace in being reckless with life. But life doesn't stop when you're feeling down, and October is yet again on another case as fellow knight Etienne seeks her help in finding his missing changeling daughter.
The mystery plot this time around isn't as intricate as the previous plot lines in the series; this was a pretty straightforward case. Even the villain wasn't much of a mystery as I figured out who was behind Chelsea's kidnapping early on in the book. Although it was a straightforward case, the twist midway and involvement of the court of cats was interesting. I didn't expect the author to tie the upheaval situation to Chelsea's kidnappers but it was well-done nonetheless.

Readers also got to see a deeper side of faerie, places that were supposedly locked away by Oberon and more of the duchy of Tamed Lighting (April O' Leary's domain). McGuire never ceases to amaze me with her world building, everything is so vividly detailed that I can imagine faerie alongside San Francisco; it's beautiful and believable.
As someone that has followed this series since the beginning, it is no surprise that October and danger come hand-in-hand.

October is a magnet for trouble. For the majority of the series October was use to doing things alone, feeling as if she can't depend on anyone but herself. However, in this book readers see October re-evaluate her life and learn that although some people are gone that it doesn't necessarily mean that she too should stop living; October realizes that there's still a lot worth living for, people worth living for.

It was refreshing to see October embrace the people around her and accept the help offered to her. What I love most about October is that she's a realistic character, dealing with real situations and emotions (well, you get what I mean). She has continuously grown with each book, still stubborn but she's learning. October has such a big caring heart and a deep loyalty to her friends…which is why she always finds herself in sticky situation.
The usual cast of characters all gets equal page time and it makes me happy to immerse myself with October and her friends. But what is truly wonderful is we get a lot more of Tybalt…A LOT. October and Tybalt's relationship takes a turn in this installment, and I was savoring every moment of it. I have been waiting for this book, for this moment in the series since the first book and it was definitely worth the wait. Reading Tybalt's confession to October on how he feels about her and about his past left me heartbroken and breathless at the same time. They always had a complicated relationship from the beginning but seeing them then and now…is just wow, it's been a long time coming. I'm very excited to see how their relationship develops in the future books.
All in all, Ashes of Honor was another stellar addition to the series. This is one of my favorite Urban Fantasy series that just gets better and better with each book. The characters and the world building are amazing and there's nothing like it on the market. No one does faeries like McGuire!