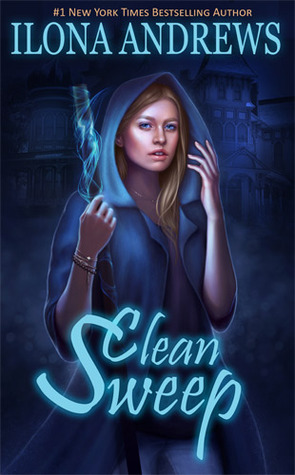 Title: Clean Sweep
Author: Ilona Andrews
Genre: Urban Fantasy
Series:
Innkeeper Chronicles #1
Trade Paperback, 227 pages
Publication: December 20, 2013
Source: Gifted
Buy|

Amazon

|

Book

Depo

|
On the outside, Dina Demille is the epitome of normal. She runs a quaint Victorian Bed and Breakfast in a small Texas town, owns a Shih Tzu named Beast, and is a perfect neighbor, whose biggest problem should be what to serve her guests for breakfast. But Dina is...different: Her broom is a deadly weapon; her Inn is magic and thinks for itself. Meant to be a lodging for otherworldly visitors, the only permanent guest is a retired Galactic aristocrat who can't leave the grounds because she's responsible for the deaths of millions and someone might shoot her on sight. Under the circumstances, "normal" is a bit of a stretch for Dina.

And now, something with wicked claws and deepwater teeth has begun to hunt at night....Feeling responsible for her neighbors, Dina decides to get involved. Before long, she has to juggle dealing with the annoyingly attractive, ex-military, new neighbor, Sean Evans—an alpha-strain werewolf—and the equally arresting cosmic vampire soldier, Arland, while trying to keep her inn and its guests safe. But the enemy she's facing is unlike anything she's ever encountered before. It's smart, vicious, and lethal, and putting herself between this creature and her neighbors might just cost her everything.
I never read Clean Sweep when it was published as a serial on the authors' site. But when I found out they were releasing a paperback, I knew I had to read it. When one reads an Ilona Andrews book, you expect snarky characters and unique world building and that is exactly what I got. Clean Sweep was definitely not what I expected, it was a blend of Urban Fantasy and Sci-Fi…which is a rare thing to be seen in books (for me at least). However, the authors made it work and I thoroughly enjoyed it.

The idea of Innkeepers is such a refreshing idea. Dina, our main heroine serves as an innkeeper of the Gertrude Hunt Bed and Breakfast. In addition to being a B&, it also serves as sanctuary between worlds for those coming to earth. Yes, you read that right. There are Aliens; that come in the form of werewolves, vampires and other fantastical creatures. Dina and the Inn are magic and are connected in a way…and while we see Dina use her magic and how alive the Inn is, there is still so much more to be seen and learned.

There are many wonderful-colorful characters from Caldenia who is a permanent resident at the Inn because she's one of the galaxy most wanted, the noisy neighbors, to Dina's Shih tzu Beast. But the other two main characters are Sean an Alpha strain werewolf and Arland a galactic vampire. I really liked Sean and Arland, the two men who abruptly show up in Dina's life. And both of them happen to like Dina. I really love the interactions between the three characters; there are so many hilarious dialogues there's never a dull moment. Overall, Clean Sweep was a great introduction to a new series and I can't wait to see what happens next. My only complaint is that the book is so short but thankfully the problem of the story is resolved at the end…so, no cliff hanger here.