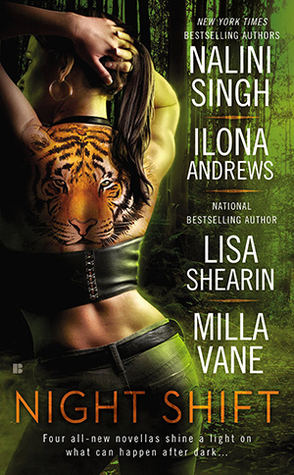 Title: Night Shift
Author(s): Nalini Singh, Ilona Andrews, Lisa Shearin, Milla Vane
Genre: Urban Fantasy,

Fiction-Fantasy
Series: N/A, Novellas
Mass Market Paperback, 378 pages
Publication: November 25, 2014 by Berkley
Source: I received a review copy from publisher in exchange for a honest review.
Buy

|

Amazon

|

Book

Depo

|
Four masters of urban fantasy and paranormal romance plunge readers into the dangerous, captivating world unearthed beyond the dark...

New York Times bestselling author Nalini Singh delivers a smoldering story with Secrets at Midnight , as the scent of Bastien Smith's elusive lover ignites a possessiveness in him that's as feral as it is ecstatic. And now that he's found his mate, he'll do anything to keep her.

In #1 New York Times bestselling author Ilona Andrews' novella, Magic Steals , when people start going missing, shapeshifting tigress Dali Harimau and jaguar shifter Jim Shrapshire must uncover the truth about the mysterious creatures responsible.

From Milla Vane—a warrior princess must tame The Beast of Blackmoor to earn a place among her people. But she quickly discovers that the beast isn't a monster, but a barbarian warrior who intends to do some taming himself.

It's seer Makenna Frazier's first day on the job at Supernatural Protection and Investigations, and her first assignment is more than she bargained for when bodyguard duty for a leprechaun prince's bachelor party goes every which way but right in national bestselling author Lisa Shearin's Lucky Charms .
I don't read many novellas, but felt compelled to read Night Shift because of the amazing authors attached to the book. I'm a big fan of Ilona Andrews (who isn't?) and Lisa Shearin's Raines Benares series so their novellas were what I was most excited for.

Secrets at Midnight: I've never read the Psy-Changeling series, but as a shifter lover I was able to enjoy this story. Overall the story was good but it solely focused on Bastien and Kirby's relationship rather than plot. It was very insta-love because the two are destined to be mates and all. So if you're looking for unique loeads, look elsewhere because the relationship is very formulaic PNR, with goody-innocent girl falling for the dangerous-bad boy.

Magic Steals: I loved Dali ever since she made an appearance in Magic Strikes (from what I remember). She is hilarious and unconventional, as she is a semi-blind vegetarian magic user shifter. The story follows Dali and her boyfriend Jim (Curran's right-hand man) as they investigate a black magic disturbance. It was great learning more of Dali's magic and Indonesian hertitage/background and seeing a softer side to Jim whom is usually dead serious. Andrews did an amazing job in packing so much information and creating an intricate plot and characterization in so few pages. I was laughing-out-loud from start to finish, and other times teary during the heart-felt scenes that made my heart swell. Magic Steals is the best novella of the four, and I loved every minute of it.

Lucky Charms: I've haven't gotten around to reading The Grendel Affair yet, but thought Lucky Charms would be a great introduction to Shearin's new series. However, A few pages into the story I stopped reading it­­. I felt like the main heroine here, Mac, was trying way too hard to be funny. There was one-linear every couple of sentences and too many pop-culture references that were a bit too much for me. The story wasn't engaging nor was the characters. It wasn't a good thing that I found myself rolling my eyes more than the times I laughed (or snickered).

The Beast of Blackmoor: Unlike the other three stories which were urban fantasies, The Beast of Blackmoor was more of a dark fantasy. The story itself was good, the world very interesting but I wasn't a fan of the two leads. They were both great warriors that help those that can't defend for themselves but they just rubbed me the wrong way. Kavik has been dreaming of Mala for years and apparently loves her (I don't know why because he never met or talked to her), but then when he does meet Mala in the flesh and finds out the real reason for her quest, Kavik's every interaction with Mala was to minimize her self's worth and to degrade her…even the sex. And boy was there a lot of it. However, Mala didn't mind being treated like crap and beneath him…even though she's practically his equal. The whole interaction was off-putting, and no surprise… the two have a happy ending together regardless. Bleh.

Overall Night Shift was a good anthology with some novellas better than others. Other readers obviously enjoyed this way more than me, and again like I said, I don't read many anthologies/novellas. So with that said, I'd say check out more reviews on the book or if you can borrow this one from a friend/library if you're interested in reading it.