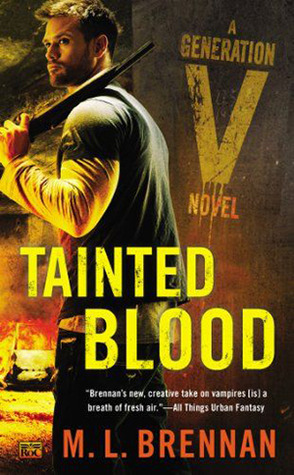 Title: Tainted Blood
Author: M.L. Brennan
Genre: Urban Fantasy
Series: Generation V # 3
Mass Market Paperback, 306 pages
Publication: November 4, 2014 by Roc
Source: I received a review copy from the publisher in exchange for a honest review.
Buy|

Amazon

|

Book

Depo

|
Former film student Fortitude Scott is finally gainfully employed. Unfortunately, said employment happens to be with a group of sociopathic vampires—his family. And as much as Fort is loath to get too deep into the family business, when his brother, Chivalry, is temporarily unable to run the territory, it's up to Fort to keep things under control.

So when the leader of a powerful faction of shifters turns up murdered, Fort finds himself tracking down a killer while navigating dangerous rivalries, longtime grudges, and hidden agendas. Even with the help of his foxy kitsune sidekick, Suzume, he'll need to pull out all the stops to hunt for the paranormal assassin.

But as he calls on fairies, witches, and ghouls for help, he discovers that the problem is much bigger than a single dead werebear. The supernatural community is preparing for a massive shift in power within the Scott family leadership—and Fort has landed right in the middle of the gathering storm.…
Brennan certainly doesn't disappoint!
Tainted Blood
is another excellent installment in the Generation V series. Just when I thought I've seen all that this series can offer, the author surprises me yet again with her expanded world building; this time…the introduction of the metsän kunigas (werebears) which is another underrated supernatural (awesome). And like Brennan's vampires and elves, the werebear community is just as fascinating. So most of the territories dealings are handled by Fort's brother Chivalry, but Fort is taking the reins this time around as Chivalry deals with his wife's death, plans her funeral and looks for a new bride. And Fort's first real assignment is to find out who killed the leader of the metsän kunigas.
Fort is definitely coming into his own person. He is still that awkward guy that everyone fell in love with but not so much of an underdog anymore. With more responsibilities with the family business, Fort is slowly gaining favor among the different supernatural sects, especially with the fragile and ending reign of Madeline. I love seeing Fort's interaction with his family and the different supernatural sects in Madeline's territory. Brennan's takes on vampires never ceases to amaze me. We learn something new with each book about the vampire ways, and it is so original that it makes reading about vampires exciting again.
The plot was engaging and fast-paced making it a quick read. The plot mystery with the werebear leader was well done, but halfway through the book I figured out who the killer was. I knew it couldn't be that easy! Good try, good try. My favorite part of the book was the banter between Fort and his siblings and the always tricky fox Suzume. Fort and Suzme's relationship is moving beyond partners, and while I like them working together; I kind of don't see them together-together. They're two different type of people, and in my opinion don't complement each other. I don't know, maybe I'll have a change of heart as I see more of their relationship as it is new. We'll see.
Tainted Blood
was a great read, and it met all my expectations. I love everything about this series and the perfect balance of serious-dark moments and humor. This is a one-of-a-kind urban fantasy and I highly recommend it! I can't wait to see what happens next in the fourth book. While the first three books take place in the Scott's territory, the author briefly talked about other leaders and their territories…so I hope we see beyond Madeline's boundaries…I'm very intrigued!