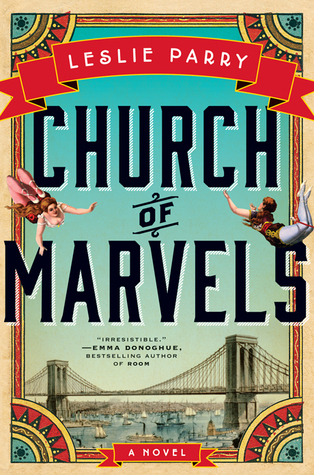 Title: Church of Marvels
Author: Leslie Parry
Genre: Historical Fiction, Mystery
Series: N/A
Hardcover, 320 pages
Publication: May 5, 2015 by Ecco
Source: I received a review copy from the publisher in exchange for a honest review.
Buy|

Amazon

|

B&N

|
New York, 1895. Sylvan Threadgill, a night soiler cleaning out the privies behind the tenement houses, finds an abandoned newborn baby in the muck. An orphan himself, Sylvan rescues the child, determined to find where she belongs.

Odile Church and her beautiful sister, Belle, were raised amid the applause and magical pageantry of The Church of Marvels, their mother's spectacular Coney Island sideshow. But the Church has burnt to the ground, their mother dead in its ashes. Now Belle, the family's star, has vanished into the bowels of Manhattan, leaving Odile alone and desperate to find her.

A young woman named Alphie awakens to find herself trapped across the river in Blackwell's Lunatic Asylum—sure that her imprisonment is a ruse by her husband's vile, overbearing mother. On the ward she meets another young woman of ethereal beauty who does not speak, a girl with an extraordinary talent that might save them both.

As these strangers' lives become increasingly connected, their stories and secrets unfold. Moving from the Coney Island seashore to the tenement-studded streets of the Lower East Side, a spectacular human circus to a brutal, terrifying asylum, Church of Marvels takes readers back to turn-of-the-century New York—a city of hardship and dreams, love and loneliness, hope and danger.
I'm not one to usually read historical fiction, if you follow my blog you'd know. But when I was pitched this book for review I was intrigued by its cover, but there was something else… my gut was telling me I must read this book. That beyond the beautiful cover is a story that needed to be discovered. Even the synopsis (not the one above) didn't prepare me for what I was about to read.
Church of Marvels
, is unlike anything I've read before. For real this time. The writing was flawless and lyrical; the characters so realistic, it's like you've known them forever and you feel all their emotions right alongside them. And the setting of Manhattan/Coney Island 1895 so vividly and painstakingly detailed that you can imagine yourself walking the streets of Manhattan with Odile searching for her sister, breaking out the asylum with Alphie and cheering in an abandoned building as Sylvan fights to make another coin for another day.
Church of Marvels
is centered on four different individuals; the Church sisters, Alphie and Slyvan. The book is narrated in third person; alternating between the three main characters every other chapter (Belle has only two parts). Within the chapters itself the story jumps back and forth to the past and present to give readers an in-depth look at the characters and their background, which adds another intricate layer to the already complex characters/plot. I'm not a fan of 'flashbacks' but they were well-done and are essential to the story (or stories) being told.
I love character driven novels, and
Church of Marvels
is a perfect example of how it's done! For most books, it takes a good chunk-while to introduce and establish believable characters. Parry did it in less than 35 pages! The prologue and first three chapters introduced us to the main characters, and though it was only the beginning I learned so much about the characters, and connected to them immediately. I don't want to go into too much detail about the characters or plot because it's something you'd want to savor and discover yourself. The book starts out slow as readers will no doubt have questions upon questions about what is going on, and how can these people' lives be entwined? But I loved every moment of it. All I can say is that once the characters' secrets are revealed and the characters' separate story line converge toward the end it will all be worth it! So, so worth it! Just when I thought Parry unload all the characters' secrets and I was done being shocked; Parry threw me for another loop when she expertly ties everything up in the epilogue that was so explosive and jaw-dropping it knocked me off my seat!
If you can only read one book this year, let it be
Church of Marvels
. No, it HAS to be
Church of Marvels.
I knew before I even read it that it was going to be a good book, but instead I was blown away at how utterly amazing it was. I highly, highly recommend
Church of Marvels
. This is Parry's first book and yet it felt like a seasoned author wrote it. Parry's writing will have you rapt from the first page to the very last. She wasted no time or words developing 1895 New York and her characters. And if this is any indication of what we can expect from Parry's future work, signed me up now for all her books! If I can give it more than five stars I would…this book is like10 stars. If you're looking for a unique, unforgettable, unpredictable, and un-put-down-able book,
Church of Marvels
is the book for you. Read it now, you won't be disappointed!