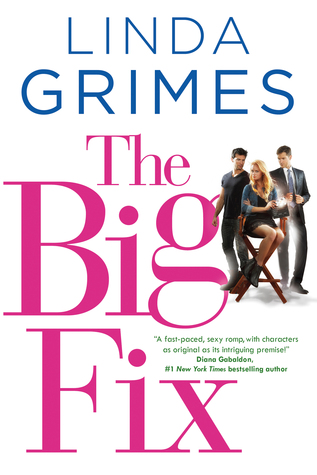 Title: The Big Fix
Author: Linda Grimes
Genre: Urban Fantasy
Series: In a Fix #3
Hardcover, 320 pages
Publication: May 12, 2015 by Tor Books
Source: I received a review copy from the publisher in exchange for a honest review.
Buy|

Amazon

|

B&N

|
Aura adaptor extraordinaire Ciel Halligan, who uses her chameleon-like abilities to fix her clients' problems—as them—is filling in on set for action superstar Jackson Gunn, whose snake phobia is standing in the way of his completing his latest mega-millions Hollywood blockbuster. There's only one thing Jack fears more than snakes, and that's the possibility of his fans finding out he screams at the sight of one. Going from hero to laughing stock isn't part of his career plan.

Seems like a simple enough job to Ciel, who doesn't particularly like snakes, but figures she can tolerate an afternoon with them, for the right price—which Jack is offering, and then some. What she doesn't count on is finding out that while she was busy wrangling snakes for him, his wife was busy getting killed. When Ciel goes to break the sad news to the star, she finds out Jack was AWOL from her client hideaway at the time of the murder.

Ciel begins to suspect Jack's phobia was phony, and that he only hired her to provide him with an alibi—but if she goes to the police, she'll have to explain how she knows he wasn't really on set. Up against a wall, Ciel calls on her best-friend-turned-love-interest Billy, and her not-so-ex-crush Mark, to help her set up the sting of a lifetime.
I can't believe it's been over a year since the last book in the series was published. I didn't even realize the gap was that big. The Big Fix is the third installment in the 'In a Fix' series following Ciel, an aura adaptor and her friends and family. In The Big Fix, Grimes takes Ciel and the gang to Hollywood! Ciel's latest job is to fill in for an actor who has a snake phobia. But the situation quickly goes south when the actor's wife is found murdered and it is up to Ciel to clean up the mess and find the killer.
One of things that I loved about the last book, Quick Fix was the introduction to Ciel's family. They were a fun quirky bunch! I was so ecstatic when The Big Fix turned out to be a family affair, readers will get to see more of Ciel's family and also this time…Billy's side of the family! There are a lot of adaptors in the family, so you know mischief and high-jinks ensues. Ciel always manages to find herself in dangerous and questionable situation, but I guess that's part of the fun…to see her get into the mess and out of it herself. It's hysterical.
For those following this series, you know Ciel been dating Billy for a couple of months now. I love seeing their relationship develop, more so because they started as best friends/honorary cousins (but not really related!) in the beginning. Their relationship has really grown since we first met them. There are still a few bumps and kinks they're working through but that's part of all relationship. There was a small moment of a love-triangle with Ciel's ex (or not ex) crush Mark. Okay, technically it wasn't a love-triangle since she IS with Billy but it looked like she had thoughts of straying for a second there! Something happens in the book, where Ciel made a colossal mistake, predictable, but I was still shocked it happened. But I also see why the author did that because Ciel, I think, knows now what she has with Billy is real and won't have any more self doubts or questions about their relationship. I REALLY want their relationship to work, I love the two of them together…so I hope we'll see wedding bells in the future (please Mrs. Grimes make it happen)!
All in all, The Big Fix was an excellent addition to the series. If you haven't read this series yet, you need to get on it A.S.A.P! If you're looking for an original urban fantasy series without the plethora of supernatural beings, eccentric characters that will make you fall in love them and a book that will make you laugh till you cry then you definitely need to read this book/series! I hope we won't have to wait another year and half till the next book because now that I re-familiarize myself with the world and characters…I don't want it to end! Loved The Big Fix and I can't recommend this series enough!