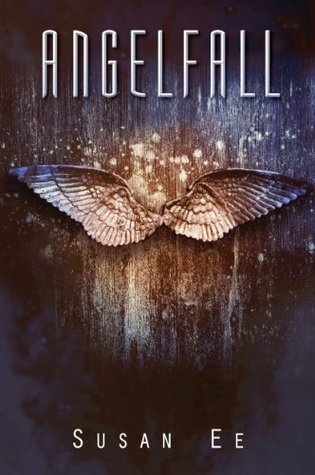 Title: Angelfall
Author: Susan Ee
Genre: Urban Fantasy, Post-Apocalyptic
Series: Penryn & the End of Days #1
Paperback, 288 pages
Publication: August 28, 2012 by Skyscape
Source: Personal Library.
Buy|

Amazon

|

B&N

|
It's been six weeks since the angels of the apocalypse destroyed the world as we know it. Only pockets of humanity remain.

Savage street gangs rule the day while fear and superstition rule the night.

When angels fly away with a helpless girl, her seventeen-year-old sister Penryn will do anything to get her back...
Like many of my books, Angelfall has been sitting on the shelf unread for a couple of years. I even bought the sequel the week it came out thinking I'd get to them sooner than later. But that never happened either. Then I found out the author was coming to my area a month and half ago, so I put down what I was reading; determined to read Angelfall. And I am so glad that I did. Angelfall was amazing! I regret that I waited so long to pick it up!

I've read a lot of post apocalyptic novels, and like I've said in previous reviews…they're all similar to one another. Another reason why I didn't read Angelfall sooner was because I don't really do Angels. I'd say 4 out 5 times it's usually a miss for me. However, I didn't find one thing that I disliked about Angelfall. Well, maybe except that the book was so short. The Angels were wickedly scary and intimidating. They sure aren't like the baby cherubs statues we see smiling at us adoringly. They're downright hostile and terrifying! And what I've come to see is, it's exactly how I'd prefer my Angels. The author gripped me from the first page, dropping readers' right into the fray and chaos after the Angels descended and wreck havoc on the streets of LA/SF. The action scenes were well spaced, keeping me engaged the entire time. I was a surprised that I could be so entertained with two characters. There were eventually more characters, but for most of the book it was just Penryn and Raffe and I wasn't bored one bit. I love their interaction with one another and their witty banter.

Penryn may be seventeen years old but she definitely acts older than her years. Penryn has always looked out for her schizophrenic mom and her wheelchair bound younger sister. That fact hasn't changed since the world ended; she is still scouring for safer shelters and food for her family. Penryn embodies everything that makes a strong heroine and she knows different type of fighting to boot (not sure whether she knew jujitsu or martial arts). I really liked her and was glad that she wasn't the usual YA girl variety. Raffe was also an excellent lead character. I think the pair complements each other very well, and it was great seeing Raffe treating Penryn like his equal and not a child.

Overall Angelfall was an excellent start to what I am sure will be an incredible series. I've seen a lot of raving reviews for World After and the final book, End of Days that will be coming out next month…and it just makes me more excited to start the next book. If you love dark and gritty UF/Post-Apocalyptic novels, then you don't want to miss this series!