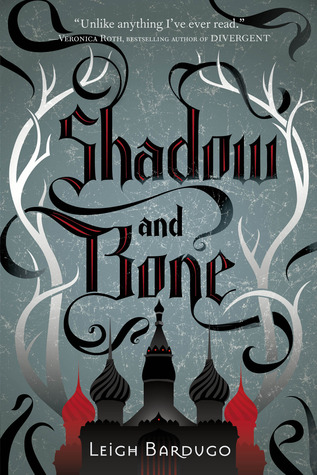 Title: Shadow and Bone
Author: Leigh Bardugo
Genre: Fantasy
Series: The Grisha #1
Hardcover, 368 pages
Publication: June 5, 2012 by Henry Holt & Co.
Source: Personal Library.
Buy|

Amazon

|

B&N

|
Surrounded by enemies, the once-great nation of Ravka has been torn in two by the Shadow Fold, a swath of near impenetrable darkness crawling with monsters.

Alina Starkov has never been good at anything. But when her regiment is attacked on the Fold and her best friend is brutally injured, Alina reveals a dormant power that saves his life—a power that could be the key to setting her war-ravaged country free. Wrenched from everything she knows, Alina is whisked away to the royal court to be trained as a member of the Grisha, the magical elite led by the mysterious Darkling.

Yet nothing in this lavish world is what it seems. With darkness looming and an entire kingdom depending on her untamed power, Alina will have to confront the secrets of the Grisha . . . and the secrets of her heart.
I've heard a lot of amazing things about The Grisha Trilogy, so I decided to read the first book in the series, Shadow and Bone. I wanted to see what the fuss was all about, and why people were so obsessed with the mysterious character called 'The Darkling' and Mal. Well, now I see why so many people love it. I was immediately hooked by the prologue and Bardugo's writing. The Russia inspired fantasy world was rich and beautiful. I think it's been optioned, and if so, it would look great as a movie…I can just imagine all Grishas wearing their Keftas, the palace scenes and the shadow fold.

Alina was a likable character overall. There were times she doubted herself, but I get it. It's a lot to shoulder when all of Ravka believe that you're their salvation…being the only sun summoner known in existence. Even though Alina was a strong character, I couldn't help but notice she didn't escape the usual YA heroine trope. For example, regular and Grisha girls alike have sort of a crush on The Darkling and wish that he would give them the time of day. But then of course, he only has eyes for Alina, who mentions over and over in the book how plain and unremarkable she is compared to other Grishas. Then near the end of the book after Alina's transformation from sickly and bony to a full-blown attractive Grisha her best friend Mal happens to just finally notice her? How convenient. Trust me, I was touched by his speech at the end, and thought it was swoon worthy but just the idea nagged at me and made me roll my eyes.

Despite my feelings on those two issues, overall I enjoyed Shadow and Bone. I think it's a great start to the trilogy. And even though I haven't finished the series, it's cool to hear that the author has another book/series coming out in the same world! Bardugo did an amazing job with the world building. I don't read many fantasy, or YA fantasy novels for that matter, but if most of the YA fantasy is like this…I wouldn't mind getting behind it. I'm looking forward to reading more of this series. I highly recommend it!