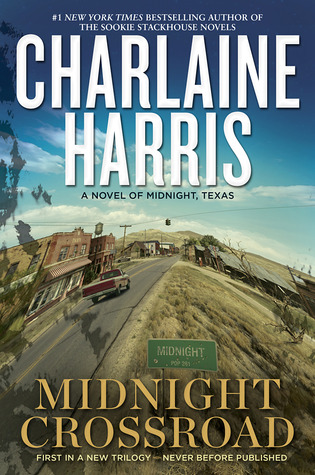 Title: Midnight Crossroad
Author: Charlaine Harris
Genre: Urban Fantasy, Mystery
Series: Midnight, Texas #1
Paperback, 384 pages
Publication: March 31, 2015 By Ace
Source: I received a review copy from the publisher in exchange for a honest review.
Buy|

Amazon

|

B&N

|
Welcome to Midnight, Texas, a town with many boarded-up windows and few full-time inhabitants, located at the crossing of Witch Light Road and Davy Road. It's a pretty standard dried-up western town.There's a pawnshop (someone lives in the basement and is seen only at night). There's a diner (people who are just passing through tend not to linger). And there's new resident Manfred Bernardo, who thinks he's found the perfect place to work in private (and who has secrets of his own).
This is my first book by Charlaine Harris and I am pleasantly surprised at how much I enjoyed it. Like many others, I've seen True Blood on HBO, based on Harris's Sookie Stackhouse series but that is basically all I know about Harris and her books. Midnight Crossroad is the first book in a planned trilogy and is said be in the same world as her Sookie Stackhouse series. The book is written in the third person following a small town and the lives of all of its peculiar denizens…and a talking cat!
For a small town, there sure were a lot of characters and POVs. The book started out slow, introducing readers to everyone in town and like the town; the characters themselves were a mystery and had a history/background waiting to be discovered. Nothing big or exciting ever happens in Midnight. The town is so small everyone knows everyone. However, the small town gets shaken up when the beloved local Bobo's girlfriend is found dead and he is suspected of murder. And thus, we have is a straight murder mystery in finding out what really happened to Aubrey.
The pacing is slow and constant throughout the book, but I didn't mind. What kept me engaged were the vibrant characters. I'm not usually a big fan of multiple POVs, but I really enjoyed each and every single characters. They're all unique and harboring secrets of their own, and for some of the characters…we got to learn exactly what those secrets were! I loved the small town vibe and how close knit the community was. If something happened to one person, you can guarantee the rest of the town folks will be there showing support or lending a hand…even if it means dispatching someone!
The writing took a little while to get used to but after a few chapters, I was fully immersed into the story and the town. While the book is suppose to be billed as urban fantasy…it felt more like a contemporary-mystery with a dash of magic than full UF but that didn't make me enjoy the book any less; quite the opposite actually. Midnight Crossroad was an excellent read and introduction to Harris's writing and new series. I can't wait to read more about this interesting group of characters. I highly recommend this new series to those who enjoy mysteries with a little touch of supernatural.