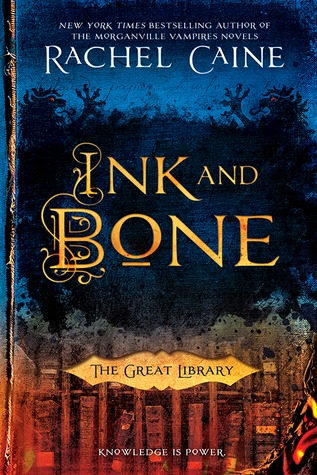 Title: Ink and Bone
Author: Rachel Caine
Genre: Young Adult, Fantasy
Series: The Great Library #1
Hardcover, 352 pages
Publication: July 7, 2015 by NAL
Source: I received a review copy form the publisher in exchange for a honest review.
Pre-Order|

Amazon

|

B&N

|
Ruthless and supremely powerful, the Great Library is now a presence in every major city, governing the flow of knowledge to the masses. Alchemy allows the Library to deliver the content of the greatest works of history instantly—but the personal ownership of books is expressly forbidden.

Jess Brightwell believes in the value of the Library, but the majority of his knowledge comes from.

When he inadvertently commits heresy by creating a device that could change the world, Jess discovers that those who control the Great Library believe that knowledge is more valuable than any human life—and soon both heretics and books will burn.…
Have you ever wondered what it's like if the Library of Alexandria was still around and was a great power today? Imagine a library with so much control, that they determined what information and knowledge was for public consumption. And the unthinkable, that it was illegal to own physical, original printed books. Well, that is exactly what Ink and Bone is…in a nutshell.

The year is 2031 and it is illegal to own books. Instead, the public is all given 'blanks' a book with exactly that, blank pages that are filled with texts using alchemy. With the outlawing of original book possession, it has become an expensive commodity thus the upsurge of the black market for it; which brings us to our main character, Jess Brightwell a 16-year-old runner A.K.A book smuggler. Jess has been running books since he was 10, and now at the age of 16 his father think his usefulness to the family has come to an end and the only way he can still be beneficial to the family is if he gets a job…inside the Great Library of Alexandria. After taking a test, Jess wins a spot to be among the 30 candidates to fill 1 of 6 library positions. In order to snag an once-in-a-lifetime job opportunity, Jess and the other contenders are given a series of test and missions till the numbers dwindles down. It is during his teaching and training that Jess finds himself conflicted between his family and his love of books and that the Library of Alexandria isn't as altruistic and magnanimous as it seems.

This is my first Caine book, and all I can really say is WOW. The book design, the title, the setting, the story, the characters...are all just perfect. When I first read the synopsis, I knew I had to read this book. But I didn't expect to love it as much as I did. The idea is very unique and nothing like anything I've ever read before and it just blew me away at how utterly amazing it was! There were so many things to love about the world building; from the concept of blanks and alchemy, a codex in which all citizen are 'encouraged' to write in daily to document their every waking moment so that they're immortalized when they past and their codex are housed within the library, a resistance group dubbed burners because they make it their mission to burn originals…I can go on and on. Then there's the location, how cool is it that it's set in Egypt of all places?! And in a Library! This is a book lover's dream come true…this book! Caine did an excellent job at describing the hot and humid landscape of Egypt and the lush details of what the Library of Alexandria might have look like with its many rooms and hidden chambers. I was enchanted with it all.

On top of all that awesomeness we have going on, there are the characters. Jess is a great main protagonist; I was instantly drawn to Jess when readers first meet 10-year-old Jess running through the streets of London smuggling the most important book in the world. Jess is pragmatic, clever, honest and a leader sort of veiled as an underdog. That last bit might sounds weird or confusing but that's the best I can describe Jess. What I mean is, anyone can see early on that Jess comes from the poorer side of London. The test needed to get to the Library of Alexandria is usually only possible for the upper-class rich folks but then again Jess's father own the territory on book smuggling….so it definitely didn't come cheap in securing him a test spot. And comparing Jess to his fellow postulates he was seriously lacking in the hierarchy and education department. While he was being groomed in the family business, other kids were getting prepared for a position in the library. But like I said, Jess may be lacking in status but he's a natural born leader, which will become more evident as he progresses through the library-life challenges. As Jess learns the way of the library, the truth about the library, and the misconception about Burners; he begins to question everything he thought he knew…and readers will see his character develop greatly by the end of the book. Then there's the supporting cast. Jess is surrounded by very strong and fully fleshed out characters that made lasting impressions from: Khalila, an intelligent poised girl that has a making of a Scholar, Glain whom I'd call G.I. Jane, Dario the obnoxious roommate, Thomas the gentle giant, Morgan the mysterious, and my most favorite character of all, Proctor Wolfe whom is always dour and oh, so misunderstood. I don't want to say too much about Wolfe but he was constantly surprising me throughout the book and the ending revelation…was like whoa, that's his family!

I've mentioned this before; those that follow the blog know how picky I am when it comes to the YA genre. I don't read many YA for that reason, and if you noticed, only 25% of the books I review are YA. I'm very selective when I choose to read/review a Young Adult book. So, it is with great pleasure to say that my expectations of Ink and Bone were beyond exceeded. Ink and Bone is by far the best Young Adult novel I've read all year and the most imaginative YA I've read in a very, very long time. I wasn't a fan of Caine before, but after Ink and Bone…I absolutely am now and will be checking her back-list! I highly recommend this book to everyone…all you book lovers out there; you need to pre-order this book A.S.A.P! I 'm already dying for the next book…and this book isn't even out yet! Read it, you won't regret it!