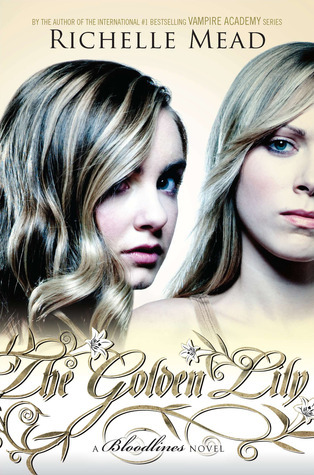 Title: The Golden Lily
Author: Richelle Mead
Genre: Young Adult, Urban Fantasy
Series: Bloodlines #2
Paperback, 418 pages
Publication: January 8, 2013 by Razorbill
Source: Personal Library
Buy|Amazon|B&N|
Sydney Sage is an Alchemist, one of a group of humans who dabble in magic and serve to bridge the worlds of humans and vampires. Alchemists protect vampire secrets - and human lives.

But the closer she grows to Jill, Eddie, and especially Adrian, the more she finds herself questioning her age-old Alchemist beliefs, her idea of family, and her sense of what it means to truly belong. Her world becomes even more complicated when magical experiments show Sydney may hold the key to prevent becoming Strigoi - the fiercest vampires, the ones who don't die.

But it's her fear of being just that - special, magical, powerful - that scares her more than anything. Equally daunting is her new romance with Braydon, a cute, brainy guy who seems to be her match in every way. Yet, as perfect as he seems, Sydney finds herself being drawn to someone else - someone forbidden to her.

When a shocking secret threatens to tear the vampire world apart, Sydney's loyalties are suddenly tested more than ever before. She wonders how she's supposed to strike a balance between the principles and dogmas she's been taught, and what her instincts are now telling her.
Should she trust the Alchemists - or her heart?

Sydney would love to go to college, but instead, she's been sent into hiding at a posh boarding school in Palm Springs, California - tasked with protecting Moroi princess Jill Dragomir from assassins who want to throw the Moroi court into civil war. Formerly in disgrace, Sydney is now praised for her loyalty and obedience, and held up as the model of an exemplary Alchemist.
I'm starting to really dig Adrian and Sydney as leads and possible couple. I've read many books where the secondary characters go off and become leads of their own novel but Adrian and Sydney are the only characters that I've seen that made it worked…they're actually more interesting and likeable enough to carry a novel all on their own. In the first book, Bloodlines, we finds out hiding out in Palm Spring isn't as boring or uneventful as everyone believed it to be. The Alchemists thought hiding Princess Jill in a desert oasis would ensure her safety but instead there were sightings of strigois and vampire hunters. Readers encountered strigois in the Bloodlines, and now in The Golden Lily, we delve deeper into the world of vampire hunters.

In my review of Bloodlines, I wrote that Rose is my all-time favorite YA heroine and no one can compare to her. While that is still true, the more I read about Sydney the more I like her. Rose is one of the most kick-ass heroines in the YA genre but Sydney can totally kick-ass in her own ways through hard work and smarts. And, in my opinion Sydney is way more relatable than Rose. Then there's Adrian, the Moroi everyone loves. Underneath Adrian's devil-may-care attitude is someone who's sweet, caring, and intelligent...and surprisingly cares about what people think of him (to an extent). I really love Adrian, ever since he turned up in Frostbite…and now that I see another side to him…it's like Dimitri who? LOL.

All in all, The Golden Lily is a solid addition to the Bloodline series. I love that I get to see more of Sydney, Adrian, Jill and Eddie who all played secondary or tertiary characters in the Vampire Academy series and meeting new characters like Trey and Angeline. I'm looking forward to reading more of this series, and can't wait to see what Mead has in store for Sydney and Co.