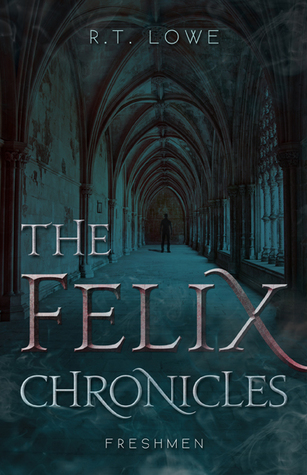 Title: Freshmen
Author: R.T. Lowe
Genre: New-Adult, Fantasy
Series: The Felix Chronicles #1
Trade Paperback, 500 pages
Publication: May 20, 2015 by Createspace
Source: I received a review copy from the author in exchange for a honest review.
Buy|Amazon|
Reeling from a terrible accident that claimed the lives of his parents, Felix arrives at Portland College hoping only to survive the experience. In time, however, his reality star roommate shows him there is more to higher education than just classes, shared bathrooms and bad dorm food, and Felix gradually dares to believe he can put his past behind him. But a fateful storm looms on the horizon: In the nearby woods, two hikers become the latest victims in a series of gruesome murders; a disfigured giant embarks on a vicious cross-country rampage, killing teenagers who fail his 'test'; and an ancient society of assassins tasked with eradicating the wielders of a mysterious source of power awakens after a long silence. Only one man--the school's groundskeeper--knows that the seemingly unrelated events are connected, and that an eighteen-year-old boy stands in the center of the storm.
It was a little daunting starting The Felix Chronicles: Freshmen because the book (physical copy) clocks out to be almost 500 pages and the font looked smaller than normal or the spacing in my opinon slightly off; whichever the reason it kind of made me drag my feet while reading the book. It also didn't help that the prologue, which is normally short, was 15 pages long. The prologue, which takes place around 300 A.D. and many of the later scenes in the book felt completely out of place and at times left me confuse; wondering how they can possibly be relevant to our main character Felix. However, Lowe had a plan and purpose for everything he wrote. As the story progressed, the prologue and those key scenes finally made sense tying into the bigger picture revolving around the mystery plot and how it's connected to Felix. I'm so glad I didn't stop reading because the story definitely picked up and got more interesting!

You'd think the whole secret societies and prophecies theme would be played out, but Lowe breathed new life into it, making it feel completely fun and original! I loved that the setting was Portland College, because I don't think I've ever read a book set in Oregon or on a college campus for that matter (okay, maybe one but it's still in the few category). There's was also a lot going on in this book, and while it may seem like overload…once you read it, it'll all make perfect sense! So, There's 'monsters' attacking/eating people in a forest right outside Portland College, a serial killer going cross country killing teenagers, and an ancient group of assassins with a hit list. And our main character Felix is at the center of it all…except he doesn't know it.

I really liked Felix and his group of eclectic friends. As supporting characters goes, I thought they were fully fleshed out with their distinctive personalities and they played their role well. For example there's Allison the best friend, Caitlin the serious and oblivious one, Harper the hot chick, and Lucas the TV celebrity. My favorite character is probably Allison, not only is she a good friend that is always there but who knew that she was also a total kick-ass! I was really surprised by the final scenes because Allison did some serious damage to the bad guys! Harper is probably my least favorite character. She just rubbed me the wrong way and came across a bit too desperate and bitter. In addition to the well developed characters, the campus and its surrounding is a wonder in itself. I loved how Lowe described Portland College with its secret tunnels and rooms, which was cool and creepy, then there's Ashfield Forest with its long list of missing people and creatures lurking in the shadows and finally a ravaged town beyond PC known as No Man's Land; where no one sane would be caught dead at.

Overall, I enjoyed The Felix Chronicles: Freshmen and I can't wait to see what the author has planned for Felix and the gang. I highly recommend The Felix Chronicles: Freshmen to people ages 17 and up (due to some graphic scenes) and anyone looking for a fresh unique read. If you're into secret societies, prophecies, assassins, and magic then this book is for you! This is a debut not to be missed!